Aaron Paul's Breaking Bad Finale Reaction
Aaron Paul: The Breaking Bad Finale "Nailed the Landing"
It's almost been two months since the end of Breaking Bad, and Aaron Paul is already moving on to his upcoming film Need For Speed, but he's still up for chatting about the end of the series that made him famous. When we talked to Paul about the end of Breaking Bad, he opened up about how he felt about the finale and how relieved he was that people liked it. He also spilled a detail about a feature we'll see on the upcoming series box set.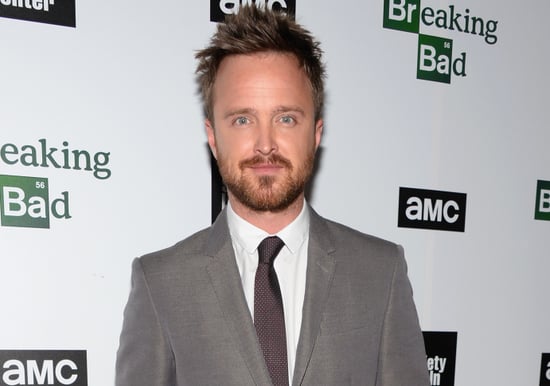 "I could not wait for people to see how it all ended. It was very easy for all of us to keep it a secret because it's fun to know and have everyone else not know. I think the majority of everybody really was a fan of how it ended, and I think we really nailed the landing on this. Bryan [Cranston] and I actually read the final episode together — he was staring at me for a good three or four days. Bryan and I wanted to wait to read it together. They actually filmed us reading it together for the first time out loud, and it's going to be a part of the whole full series box set. It was obviously a very emotional experience, but it was cool; I went to that event at the cemetery [the Hollywood Forever screening]. It was cool to be there with 4,000 people reacting to it, just the honest reaction. Everyone loved it . . . thank God."