Aaron Paul Emmy Interview in Press Room
Aaron Paul Talks Breaking Bad's End in Emmy Press Room: "I Hope Jesse Survives"
Breaking Bad star Aaron Paul was up against costar Giancarlo Esposito for outstanding supporting actor in a drama, but it was Paul who took the Emmy home. In the Emmy press room, the actor was more than a little surprised that he won over Esposito, but he also expressed his happiness about the honor as well. Paul also talked about the upcoming end of Breaking Bad and how he doesn't want to see it end.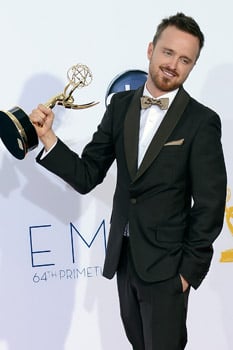 On not thinking he was going to win: "I don't know if you saw my speech — I was out of my head. I truly did not expect this whatsoever, so I didn't prepare anything. I was just shaking and trying not to sob."
On encountering costar Giancarlo Esposito, who he was up against: "I cried in his arms. I said, 'It doesn't make sense to me that I was on that stage and you were not.' I just didn't know what to say to him. What he has done with Gustavo Fring is impeccable. It's so bizarre that I am standing in front of you all right now."
On being a two-time Emmy winner: "That's so bizarre. It's unreal that I am able to do what I've always dreamt to do. I'm so humbled and honored."
On where he'll keep his new Emmy: "I'm going to carry it around with me for a while. I don't know. Maybe next to the other one. It's in the living room."
On whether he'll be disappointed if Breaking Bad gets a happy ending: "I don't think that's what our fans want. It's not going to be a fairy-tale ending. I hope Jesse survives. I think he deserves to survive."