Aaron Paul Interview About End of Breaking Bad
Aaron Paul on the End of Breaking Bad: "You Guys Are Gonna Sh*t Your Pants!"
When Breaking Bad comes back this weekend, it'll be for its final eight episodes, and it's not just the fans who are excited. I caught up with series star Aaron Paul recently, who not only gushed about how good the last installment will be, but he also talked about keeping quiet about what happens and how he felt when he read those last scripts. Oh, and Paul has a very colorful word of warning for viewers.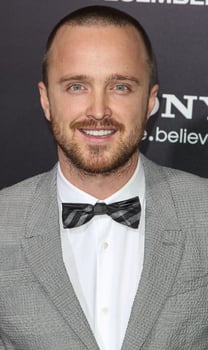 Is it hard keeping the secret about what's going to happen in the final episodes?
Aaron Paul: I don't have a problem not telling people because I don't want to ruin it for anybody. Everyone asks me but, deep down, they really don't want to know. I know that.
Is it sad saying goodbye to Breaking Bad?
AP: Before I read the final eight episodes, the final eight hours of the show, I was thinking to myself, this is so tragic. I can't believe this show is ending. I didn't want it to end, but after knowing how the final eight hours play out, I couldn't be happier with the way that it ended.
Did you have a special ritual for reading the finale scripts?
AP: In all honesty, I couldn't wait. If I got an email on my phone with the final eight, I thought to myself, "I'm gonna wait to get home and actually have the paper scripts, sit on the couch, drink some wine and take my time with it." But in all reality, probably six out of the eight episodes I read from my phone on a plane to something. I could not wait. I'm a huge fan of the show as well . . . You guys are gonna sh*t your pants!