Aaron Paul Quotes From the Emmys Press Room
Emmy Press Room: Aaron Paul's Fantastic Voyage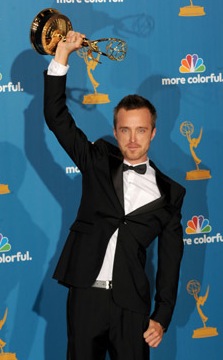 After his big night at the Emmys, Aaron Paul just might be my new crush. He got sweet thanking his mom in his acceptance speech for outstanding supporting actor in a drama, and in the Emmy press room, he couldn't stop mentioning how "fantastic" he feels. Here's more:
How do you feel about your statue?
Aaron Paul: I can't believe I own her. I get to take her home. It's fantastic.
What does your first Emmy mean to you?
AP: I have no idea but I love it. I think it's wonderful. My buddy who lives with me in my house, he won one years ago. So I'm happy to have one to call my own. It's fantastic. I'm just happy that people like the show.
Were you nervous?
AP: You have no idea. I was losing my mind. When they called my name I couldn't believe they actually called my name. I sat in my seat for a little bit. I didn't know what to say and I'm sure I looked like an idiot. But it was fantastic.
How do you relate to Jesse?
AP: I have such a soft spot for Jesse Pinkman. He's just this lost kid struggling to find his way. I'm so, so opposite of that character. It's nice to kinda zip on that skin, play make believe for a little bit. I love everything about him. He's just this messed up kid who thinks cooking crystal meth is an art form and I think that's beautiful.
Who did you think was going to win?
AP: I truly was rooting for either Michael Emerson or Terry O'Quinn because I'm obsessed with Lost. I was not expecting it at all. I'm just so unbelievably honored to be mentioned in the same breath as my fellow nominees, it's just incredible.