Aaron Paul Reddit Interview
Aaron Paul Gets Called "Bitch" on a Daily Basis and Likes It
Aaron Paul took some time out of his day to call half of his fans "bitch" on Reddit — and yes, they loved it. Of course it's all in honor of Jesse Pinkman's signature word on Breaking Bad, and Aaron enlightened us with many insights about playing the tortured meth dealer for five seasons. He also offered up a slew of hilarious one-liners and answered burning questions like what Bryan Cranston really smells like. Check out all the highlights: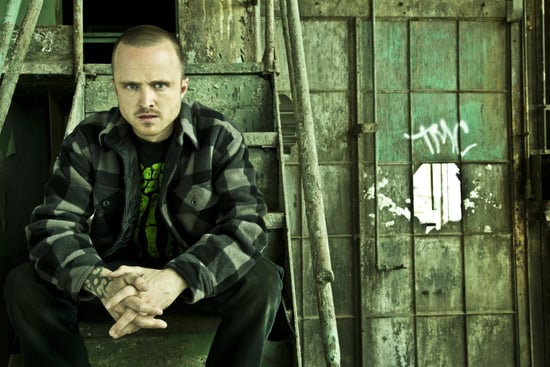 On if people call him "bitch" in real life: Yes, I get called "bitch" on a daily basis and yes I do think I'll get called "bitch" on a daily basis for years to come. But to be honest, I don't really mind because I like being called "bitch."
On the end of Breaking Bad: I gotta be honest. I never wanted Breaking Bad to end, simply because I'm a huge fan of the show and I didn't want to be unemployed. But after reading the final eight episodes and understanding where the writers are going with it, I'm so happy they ended it the way they did and I think all of you will be happy as well. It's a dark, crazy ride to the final episode but it is a fun one. Yeah, bitch.
On the hardest scene to film: Well bitch, let me see. I honestly think the hardest scene for me to do was when Jesse woke up and found Jane lying next to him dead. Looking at Jane through Jesse's eyes that day was very hard and emotional for all of us. When that day was over, I couldn't be happier that it was over because I really, truly felt I was living those tortured moments with Jesse. So yeah bitch, that's the one.
On how he is similar to Jesse: We both love kids. We have a huge soft spot for the young ones and we don't want them to be raised by meth heads . . . We want to protect them.
On what he'd be doing if Jesse had gotten killed off in the first season: My career would be over. And I would be a sobbing mess watching week to week on Breaking Bad.
On his favorite line from the show: "Roll me further, bitch!"
To see more hilarious quotes, just read more.
On his favorite shows: Hey bitch. I would say It's Always Sunny in Philadelphia, or Game of Thrones, or House of Cards. They are so badass and addicting.
On what Jesse and Daenerys Targaryen would name their baby if they had one together: Fred.
On the best bowler among the cast: Ummm . . . I would like to say I'm a pretty good bowler, but I think Bryan might be the best of all of us. He's really good with balls. He's a professional with balls. All sorts of balls. Well done Cranston, congratulations bitch!
On whether he can make meth in real life: Absolutely not! I'd kill us all and blow us all up.
On what Jesse would choose as a drug kingpin name: Oh man, I don't know. Jesse would probably go for a really intense name or maybe just a quote like "Yeah, bitch."
On his favorite scene: I have so many favorites, but the first thing that comes to mind right now is the infamous dinner scene with Mr. and Mrs. White. I think the glass of water became Jesse's security blanket in a way and I love that about that scene. But there's been so many fun scenes to shoot. So anytime I as Jesse Pinkman can release my pent up anger told Walt is always a good time. So the time that Jesse shows up to Walt's house and thinks that he found on that he poisoned Brock, and he puts a gun to his head. That was a lot of fun.
On what Bryan Cranston smells like: That's a really good question and I actually get that asked of me a lot. Yes, he smells incredible always. Also, you're a bitch. To be honest, he smells like a freshly bathed unicorn on a summer day in Barcelona.