Abraham Lincoln: Vampire Hunter Review
Abraham Lincoln: Vampire Hunter Is Cool, But . . .
Four score and seven years ago (give or take a few decades), Abraham Lincoln wasn't just a champion of civil rights — he also slaughtered vampires. That's the skewed re-imagining of our 16th president's life in Abraham Lincoln: Vampire Hunter, the adaptation of Seth Grahame-Smith's novel. Benjamin Walker plays Abe, a young man bent on avenging the vampire murder of his mother. When the mysterious Henry (Dominic Cooper) comes to Abraham's aid during a botched attempt to kill his mother's attacker, Henry decides to train Abraham to be a vampire hunter. Wielding his trusty axe, Abe the vampire slayer slaughters the monsters all over 19th-century America by night and pursues his political career by day. Before you head to the theater, find out which elements make the bloody, action-packed thriller movie worth seeing — along with the concerns that may keep you away.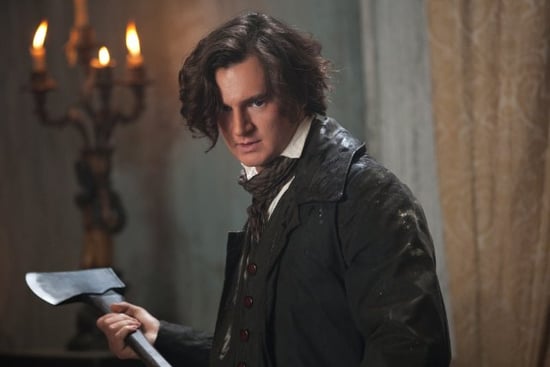 The fight scenes are exciting. The best parts of the movie are when Abe goes head to head with the vampires. He's a badass when he's got an axe in his hand, and the fighting is The Matrix-style, only with blood splatters.
But . . . The Matrix did it better 13 years ago.
Dominic Cooper and Anthony Mackie are fantastic. Cooper plays Henry, Abraham's vampire-killing guru, and he's smooth, charismatic, and the most interesting character in the movie. Mackie plays Abe's childhood best friend and eventual partner in vampire exterminating, and he's so watchable that I wished he'd had more scenes.
But . . . Cooper and Mackie aren't the stars of this movie; Benjamin Walker is. And while Walker is attractive and certainly looks the part, he's just a bit too bland. It's partially the way the character is written; when Abe's not axing the crap out of the undead, his personality is as wooden as the trees he chops down.
To find out the other ups and downs of Abraham Lincoln: Vampire Hunter, just read more.
The vampires are scarily good. Hollywood is oversaturated with vampires, but most of the popular ones right now (Edward Cullen, Damon Salvatore, Eric Northman) are better known for their sex appeal than for their scare tactics. Not so in Abraham Lincoln: Vampire Hunter; these vampires have horrifying faces and teeth, and they're either startling you out of your seat or making your skin crawl with their murderous behavior.
But . . . Sometimes they're too scary. A few scenes made me squeamish, so if you're averse to scary movies, then you may want to stay home.
The concept is cool. It's so fun to see Grahame-Smith's novel translated to the big screen, and everyone in the theater seemed to get a kick out of seeing such an iconic historical figure kicking butt and taking vampire names. I may have even clapped after a particularly rad fight scene.
But . . . The movie takes itself so seriously. They could have had more fun with the idea of Abe as a vampire hunter, but there's not much of a sense of humor to the film. The unnecessary voiceover by Abraham adds to the overly earnest feeling.
Photo courtesy of 20th Century Fox