Adele Golden Globe Awards Quotes
Adele Celebrates "Surreal" Golden Globes Win and Eyes an EGOT!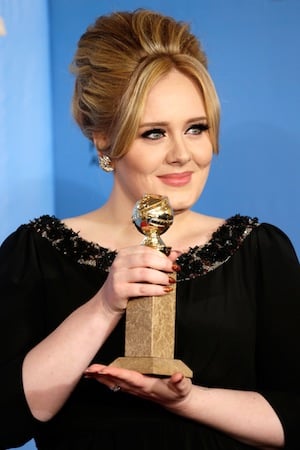 Adele was utterly hilarious when she stepped back into the press room after her Golden Globes win on Sunday evening. She quickly joked about how surprising it is to be winning among the movie stars. Check out her cute quotes:
On winning the Golden Globe: "It's absolutely amazing. It's very surreal and very hilarious. It's not my field. I'm not meant to be here. It's very weird, but incredible. I took the risk and I'm very proud of it, but it's beyond anything I've ever expected."
On how she feels tonight: "I feel very excited tonight. I feel a little overexcited. It's my first night out since I've had a child."
What was your inspiration for this song: "My inspiration usually comes from heartbreak, but I don't think I'll ever be devastated again. Normally, I write about my misery, and this time, I wrote about someone's script."
On her favorite Bond: "Pierce Brosnan was my first Bond, but Daniel Craig is my Bond forever."
On her goals: "The next step is an EGOT. I need to find a TV show!"
On becoming a mom and how it's changed her: "I'm exhausted; that's how it's changed me. I'm not revealing his name. It's too personal at the moment."