Adewale Akinnuoye-Agbaje Interview on Thor: The Dark World
Adewale Akinnuoye-Agbaje Opens Up on Playing a Villain in Thor: The Dark World
With a title like Thor: The Dark World, you've probably figured out that Marvel's next blockbuster is going to have its fair share of villains. With Loki in lockdown, there are some new baddies in town. Adewale Akinnuoye-Agbaje (who I will always know as Mr. Eko from Lost) plays Dark Elf Algrim/Kurse, who teams up with Malekith (Christopher Eccleston). I had the chance to chat with Akinnuoye-Agbaje last year on the set of the film along with a group of reporters to discuss the arduous makeup process (he's pretty much unrecognizable), and more of what we can expect when Thor: The Dark World hits theaters on Nov. 8.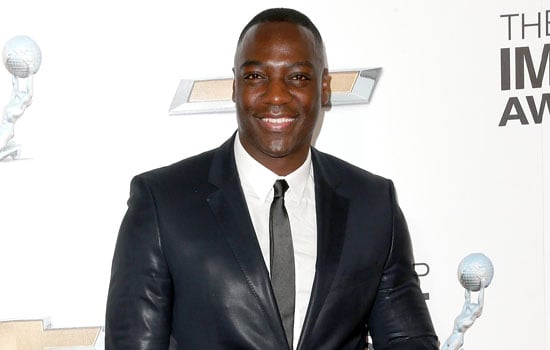 Do you use an accent in the movie?
Adewale Akinnuoye-Agbaje: We crafted an accent for Algrim and also Kurse because there will be some transformation. So there is an accent, and there's a modification of it for Kurse, and I'll give you a little hint as well. There's a language, which I think is gonna intrigue you as much as it has me 'cause I've had to spend hours learning it, but I think you'll get a lot of fun out of that, because I think it adds a new dimension to not only the elves but the movie. It makes it very real.
How long is the makeup process?
AAA: For Algrim it takes about two and a half hours, possibly three. And for Kurse it takes about an hour and a half, and sometimes I have to do them both on the same day, so we're looking at about five hours. It's definitely a labor of love.
How much did you know about the characters beforehand?
AAA: I didn't know an awful lot. Kurse, I've known about because he's quite a figure in the Thor world. But that was the joy of coming in because I did the research and discovered who they were. I think that allowed me not to have those preconceived notions, and it just allowed me to come with a different kind of energy. I didn't know an awful lot, I just went along with the ride, and I'm enjoying it.
How was it wearing the costumes?
AAA: Kurse is probably the most challenging. Sometimes I'll wear a fiberglass body cast as well on top of the costume because of certain instruments that have to go through me. So it's a challenge, but the good thing about it is the suit itself is quite flexible and the bulk does the work so it means you don't have to act it. The burden is on you. So it's very literal. I did a lot of mirror work before I went to the stage because just trying to bring a presence to him, and I found that less was absolutely more with him because the bulk actually said a lot and there's certain moments.
Who are most of your scenes with?
AAA: I'm lucky. I get to play scenes with all of the main characters. The most time I spend is probably with Christopher Eccleston. He plays Malekith, and we are very much bonded in our vision of the world and our purpose in the movie, so we spend a lot of time together. But I've also got great scenes with Tom Hiddleston; I've got great scenes with Chris [Hemsworth].
What can you tell us about Malekith?
AAA: It's multilayered, but essentially, there's a furiously loyal bond between us because we've been on the frontline together and we lost a lot, so it's almost like a brotherhood. The beauty about Algrim is that it's the kind of loyalty that is very rare. So they're tight.