Admission Movie Review
Admission: Tina Fey and Paul Rudd Fizzle
In Admission, Tina Fey and Paul Rudd play opposite each other in a collaboration that's loaded with potential, but their onscreen chemistry falls surprisingly flat. Fey plays Portia, a staunchly by-the-books Princeton admissions officer who gets a call from John (Rudd) to make a routine visit to his alternative school and talk to his students about college. He has an ulterior motive for luring her to the campus in the form of Jeremiah (Nat Wolff), a bright student he believes to be her birth son, but Portia has no idea until she's already immersed in their lives. The angle is far-fetched, but it could work if so many other components weren't jammed into the script.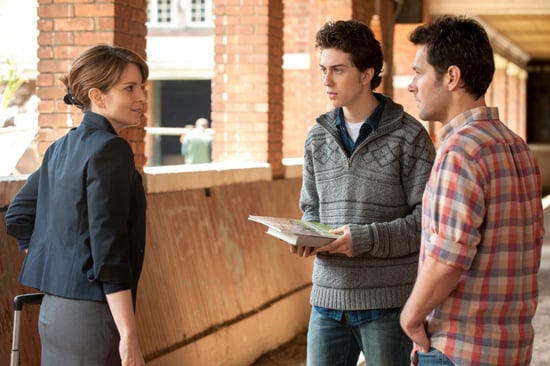 Though it's billed as a romantic comedy, the romance between John and Portia feels forced and detracts from the story. Their combating dispositions serve as an obvious "opposites attract" romantic mechanism, but it's stale, especially given that Rudd and Fey's dynamic feels more like that of siblings. When they finally — spoiler alert — do get together, there's not much emotional payoff. To find out what else I think about Admission, just read more.
It's not all bad, though. The disbanding of Portia's long-term relationship with a Princeton professor (Michael Sheen), who often pats her on the head like a dog, provides a lot of chuckles. There's a successful whimsical element when Portia leafs through applications and imaginary applicants flit around her office — before ultimately dropping down a rejection hatch in the floor. The most interesting scenes are those with Lily Tomlin, who plays Portia's former flower-child mother, Susannah. She goes beyond the token kooky mother, vocally rejecting a traditional relationship with Portia, or as she puts it, "this mother-daughter role-playing crap." Sometimes she's too outlandish to be taken seriously, but her unpredictability is welcome in the fairly formulaic film.
Fey is funny and Rudd is cute, but there's nothing about Admission that is particularly surprising or memorable. This is one case where romance should have taken a backseat to what could have been a decent mother-son story.