The Adventures of Tintin Press Conference With Steven Spielberg
Steven Spielberg and Peter Jackson Talk Tintin and Not Taking No For an Answer
Steven Spielberg and Peter Jackson team up on the upcoming film The Adventures of Tintin (Spielberg in the director's chair and Jackson as producer), and the motion capture animated film opened Hall H at Comic-Con this morning. The film is based on a European comic strip about an ambitious reporter, and features the voices of Daniel Craig, Simon Pegg, and Jamie Bell. After the panel, Spielberg and Jackson did a press conference with reporters to talk more about what it was like making the film. Here are some highlights: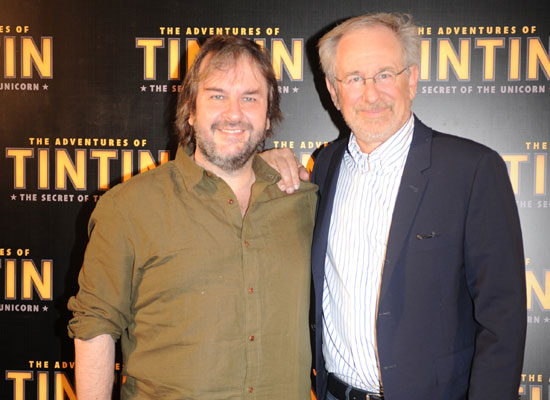 On feeling more comfortable with live action films:
Peter Jackson: "We can't use computers, either of us. I can hardly send emails."
On working with actors in motion capture, where they don't have costumes or makeup:
Steven Spielberg: "It all comes down to the actors looking each other in the eyes, that's where all the comedy or the drama happens. The truth of those performance is when they're acting together. Actors just need each other to act together. I think that's the secret of great acting: you have to bring your imagination to the part."
On making movies in the digital age:
SS: "It may be a digital era, but it's still an analog era in terms of telling a good story. There's nothing of greater importance than the story. . . . The medium is not the message but the characters, and the story and the plot is. If any movie is working, hopefully how it was made is not a concern — you only want to have a good time."
On Tintin being a movie for a wide audience:
SS: "This movie I'm making for all of you. Some movies I make for myself, when the subject matter is very sensitive and very personal. But there are other kinds of genre films that I need to make for the audience. And Tintin is just such a movie."
On identifying with Tintin:
SS: "Tintin is a intrepid, tenacious reporter who often becomes part of the story. I identify with Tintin in the sense that he does not take no for answer, and that has been the story of my life."
On what they learned about each other as filmmakers:
PJ: "The thing that surprised me is given Steven's huge body of work and the incredible films that he's made, I thought Steven would have a kind of a process, and I was looking forward to seeing it. But what I discovered is that Steven walks into the set and, it's like the first time he's walked on to a film set. It's a childish — I mean that in a positive way — excitement and enthusiasm that I wasn't expecting, and it's very inspiring."
SS: "I was surprised at how patient and thoughtful Peter is. He doesn't let anything rattle him. He's a problem solver; he likes to look at a challenge from different angles and makes the best choice to solve a problem. We were in a way like two code breakers trying to figure this movie out together. Like two scientists in a lab trying to make something work. No ego, no competition. We're both on the same page: two Tintin fanboys trying to bring this movie to life."