Alcatraz Pilot Review
Pilot Scoop: Alcatraz
We're at the onset of midseason's brand-new shows, and if you're feeling like you need some fresh TV to shake things up, there's probably a series for you in the new lineup. On the mystery side, Fox and executive producer J.J. Abrams (a showrunner with quite the sci-fi pedigree) are bringing Alcatraz to primetime. The drama, which kicks off Jan. 16, follows a team of people investigating the mysterious reappearance of prisoners from The Rock.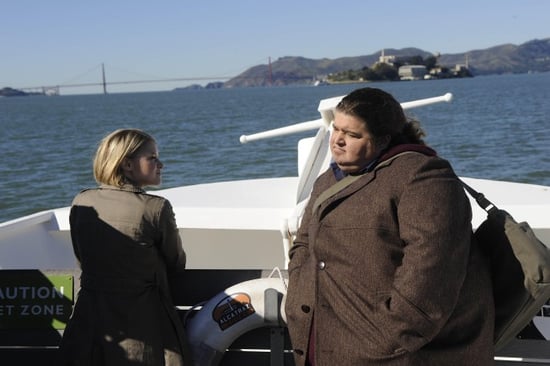 What it's about: Sarah Jones plays San Francisco homicide detective Rebecca Madsen as she tracks a murder suspect who was imprisoned on Alcatraz over 50 years ago. As she tries to determine how he has returned (and hasn't aged a day), she uncovers a shocking secret: Alcatraz never closed and transferred its prisoners, everyone just disappeared one night without a trace. Soon, she and a local expert on Alcatraz's history (Jorge Garcia) are recruited by a strange government agent (Sam Neill) to solve the mystery and capture each prisoner.
Where it works: The procedural-style show follows one prisoner from the past as he gets captured in the future, and the pilot's inaugural tale of an inmate out for revenge is enthralling. If every story is as interesting as his, Alcatraz will be must-see TV.
Where it doesn't: I found myself feeling more sympathy for the escaped prisoner in the pilot than I did toward most of the team tracking down the old inmates (except for Garcia, whom I have a soft spot for due to his Lost past). Jones and Neill come off a bit wooden in the premiere, so I hope their characters both become more compelling.
You might like this show if: You want a new mystery series with a bit of fascinating historical flair.
When it's on: Mondays at 8 p.m. on Fox.
See a preview and some pictures from Alcatraz after the jump.