Alison Brie Talks Mad Men and Community
Alison Brie Talks Dancing on Mad Men and Loving Community
Joel McHale wasn't the only Community cast member I chatted with at the 2010 Winter TCA. I also was lucky enough to talk to adorable Alison Brie, who pulls double duty as Annie on the show and as Trudy on Mad Men. Brie gushed about how much fun she has on the set of Community, mentioning that Annie will be getting a new love interest on the show (yay!), and also dishing on her hopes for Trudy. Here are highlights: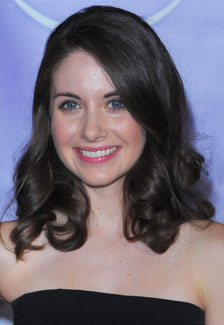 On Community: We're having so much fun, I can't even tell you. I drive to work every day — Danny Pudi, for Christmas, amongst other gifts, he gave us a mix CD of music from the show, and inspired by . . . so I've been listening to it in my car on the way to work, and I'm such a jerk to other people sitting in traffic going to these jobs that they hate, and I'm like "I love my job! I'm so happy to go to work!" We're just having the best time.
On the atmosphere on the set: It's such mayhem all the time. We won't shut up. Everybody talks and jokes constantly. It's like kids on a playground. It's great. It really trickles down into the episodes. They let us have our fun onset and through that, our jokes in between takes, we're working in little things that are making their way into the next takes. It's amazing. I love these people, we all felt instantly connected after we shot the pilot, and now after five months of working together I think we feel even closer. It's amazing.
On working with Joel McHale: You can't keep a straight face around Joel because he is ready to make fun of your outfit, or your hair, or your taste in music at any time. And you just want him to, because he's so charming.
On the next season of Mad Men: I can't even begin to imagine what's going to happen on that show. I just want to still be involved. I would love to see Trudy trying to help out in the new office and it being a disaster. It was great to shoot the finale and shoot that scene where she brings them all sandwiches.
To see what Brie had to say about working with Jack Black and upcoming guest stars, just
.
On shooting tonight's episode: We have Jack Black, who came and shot with us. It was amazing. It was as good as you would think it would be. We were all so excited to have him there, and he's just so laid-back and cool, and then just turned it on and was Jack Black. He's dreamy! We were all awkward fangirls and -boys, wanting to hang out with him between takes. But he was super cool, just hung out with us and was very gracious to do it. He tries to join our study group in the episode but he's a little unstable and we have a problem with that.
On upcoming guest stars: We just learned that we're gonna have Katherine McPhee guest starring, so that should be fun. She'll be playing Chevy's stepdaughter, I think. So we'll see what happens with that.
What else can we expect on Community? Annie gets a love interest which is cute. It's fun to see Annie blossom out of her shell. She's becoming more of a woman, romantically. And in other ways maturing. And that's fun to play, to go back to that time and seeing everything for the first time and think of your first crush, and your first kiss. It makes it a fun character for me to play because she's so naive and constantly learning so much about life.
On the Jeff and Annie kiss: I don't know what's gonna happen with the Jeff and Annie thing, that was sort of unexpected. You know, the writers throw so many different things out and kinda see where we go with them. When we shot the debate episode I do not think it was the writers plan to have Jeff and Annie end up together but the fan feedback was so incredible, and very supportive of that union. I'm sure the writers are taking that into consideration, but the age difference might be a bit of a problem.
On filming that amazing dance sequence on Mad Men: We actually took lessons, Vincent Kartheiser and I, for maybe three weeks or so before shooting that episode. And then we practiced a bit in our free time. It was so much fun. When we shot the scene, it was a long scene that party scene. It went on into the night and by the time we got around to shooting the Charleston it was maybe 2 a.m., 3 a.m., and luckily the dance is so fun and upbeat that we didn't have to do it too many times. We just got right out there and had a blast.