The Amazing Spider-Man 2 Comic-Con 2013
Andrew Garfield Calls Emma Hot and Tobey Maguire a Sex Machine
Spider-Man swung into Comic-Con for The Amazing Spider-Man 2, and star Andrew Garfield was so committed to his role that he not only entered the panel as Spider-Man, spandex suit and all, but he spent half of the panel in character and answering questions as the webslinger. He did eventually emerge as himself, but Garfield was charming and funny both ways, as was his costar Jamie Foxx, who plays Electro, the sequel's villain. The two guys had so much chemistry that we were treated to some funny quips, along with the first trailer for the movie. Keep reading to find out why The Amazing Spider-Man 2 panel was so much fun.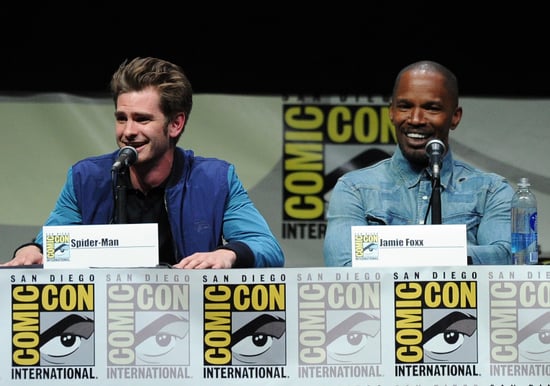 Garfield was hilarious as Spider-Man, cracking jokes and making random, funny comments, like when the moderator announced that Emma Stone (Garfield's costar and real-life girlfriend) couldn't be there, "Spider-Man" remarked, "She's hot." When someone mentioned the name Andrew, he asked who that was, and retorted, "I thought Eduardo Saverin played me," referring to Garfield's character in The Social Network.
Spider-Man was also a big fan of Jamie Foxx (the suited-up Garfield said, "I loved Django" and talked on end about Any Given Sunday). As the new villain, Foxx said it was extremely fun to play the role, and also told a funny story about his 3-year-old daughter when he got the role of Electro. "My daughter was like, man, Spider-Man's gonna kick your ass."
The trailer for the movie looked awesome, showing off a bit of Dane DeHaan as Harry Osborn, the cool special effects for Electro's powers, and Peter and Gwen's relationship. About their evolving romance, Garfield said they'd be hitting some growing pains, and the relationship challenges you'd expect, "especially when one half of the pair is Spider-Man." But don't fret; Garfield assured us that "these two feel destined for each other." It makes even more sense that we won't be seeing Mary Jane just yet.
One fan mentioned that previous Spider-Man Tobey Maguire nailed the role of a guy who was an outcast that girls didn't like, but Garfield had so much "swagger" that the fan wondered how Garfield toned it down. Garfield seemed flattered, saying it was "the most amazing question" he'd ever received, but disagreed on all counts, and exclaimed, "Tobey Maguire was a sex machine in my eyes!"