The Amazing Spider-Man DVD Release Date
What to Rent: New DVDs This Week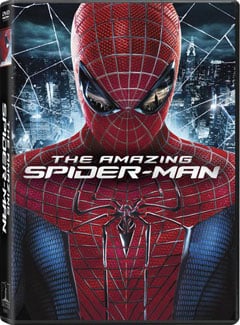 Andrew Garfield slips into the Spidey suit in Mark Webb's new iteration of the classic superhero. In this version, Peter Parker is back in high school when he's bitten by the spider that infects him with superpowers. He needs them to combat Dr. Connors (Rhys Ifans), a onetime ally of his father's who's taken to transforming into a giant evil lizard at night. Garfield and Emma Stone (as love interest Gwen Stacy) bring new life to the franchise, though the plot may be a bit too similar to the Sam Raimi film for some viewers. The DVD comes with deleted scenes, commentary, production art, and stunt rehearsals.

73%
Mark Duplass stars as Jack, a man still in the throes of depression a year after his brother's sudden death. Seeking solitude, he travels to his best friend Iris's (Emily Blunt) family cabin, only to find her sister Hannah (Rosemarie DeWitt) attempting to cope with a loss of her own. When Iris comes up to visit, the three have to deal with the dynamics of an uncomfortable love triangle. Director Lynn Shelton delivers a film filled with honesty, humor, and compelling performances. The DVD features the theatrical trailer and commentaries.

84%
One more new release when you read more.
Idealistic Arthur (voiced by James McAvoy) is Santa's son, living in the shadow of his older brother (voiced by Hugh Laurie) who's assumed duties of making the North Pole's operation run smoothly. When Santa's complicated gift-delivery system goofs up one package, oddball Arthur takes it upon himself to fix the mistake, embarking on a quest filled with daring challenges and humorous gags. The holiday movie is a refreshingly charming take on a familiar plot line and a great choice for families. Featurettes are included with the DVD.

91%