The Amazing Spider-Man Movie Review
The Amazing Spider-Man: Andrew Garfield Puts Fun in a Familiar Story
Much like it's titular hero, The Amazing Spider-Man has had to overcome a lot; cynics argued that it was too soon to start over with a new cast, especially in light of the record-breaking success of the original Spider-Man movies. Director Marc Webb promised us that his iteration would be different, and he does his best to inject freshness everywhere he can: Peter Parker has a new(ish) personality, a new girlfriend, and a new villain to tackle. Despite all these tweaks, this reboot of the Spidey franchise still feels like something we've seen before. That said, The Amazing Spider-Man is an inspired take on the comic book that will please fans of the Spider-Man story, and Andrew Garfield proves he can carry the weight of a superhero franchise.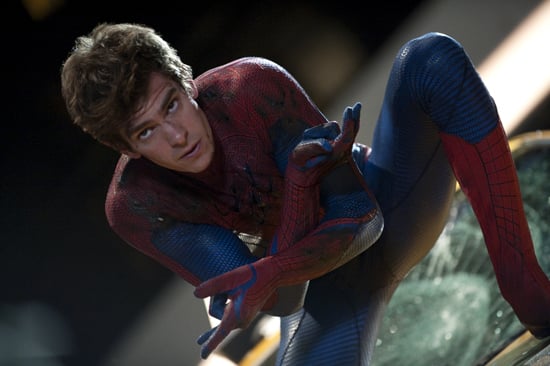 Garfield is our new Peter Parker, and this time he's more of a hipster outcast (complete with skateboard and a seemingly endless array of hoodies) than timid nerd. Still troubled by the mysterious disappearance of his parents years earlier, Peter's lonely teenage years change dramatically when a spider bite leaves him with some serious strength and cobwebs coming out of his ears wrists. Like I said, you've heard this story before, but to find out why The Amazing Spider-Man is still worth seeing, just read more.
The Amazing Spider-Man has a completely new cast, but its leads (and the chemistry between them) are what ties it all together. Peter's personality is really what makes the film stand on its own; this time around, he feels more like a kid you might have known in high school than a character ripped from the pages of a comic book. Garfield's sincerity shines through Peter's moody exterior, and he captures Peter's transformation and inner turmoil with depth, emotion, and a sense of humor. Most of the joy of the film is found in his relationship with his brainy classmate, Gwen Stacy (Emma Stone). Peter and Gwen's love story smacks of that awkward teenage authenticity: they steal glances at each other, stumble through their first conversations, and arrange secret meetings. Watching Stone and Garfield play off each other is refreshing, and the romance is seamlessly woven into Peter's story as a vital part of his coming of age.
As with all comic-book films, The Amazing Spider-Man has a villain, and this time the nemesis comes in the form of a scientist (Rhys Ifans) who's obsessed with regenerating his missing arm. Peter becomes increasingly fascinated with Dr. Connors when he learns that the doctor had a relationship with his father, but mild-mannered Connors goes from family friend to world threat when his botched experiments turn him into a full-on reptile. As far as enemies go, The Lizard is mostly forgettable and is a little too reminiscent of The Green Goblin: he's got that same motif of being a role model to Peter by day and an adversary to Spidey by night.
The Amazing Spider-Man might feel too familiar, but watching it is kind of like making an investment in your future as a fan of a new franchise. It's easy to form a connection to Garfield, and with the origin story behind him, we can go on to see this new iteration of Spider-Man weave a tangled web of his own.