"America's Next Top Model": Here's To Frenemies!
"America's Next Top Model": Here's To Frenemies!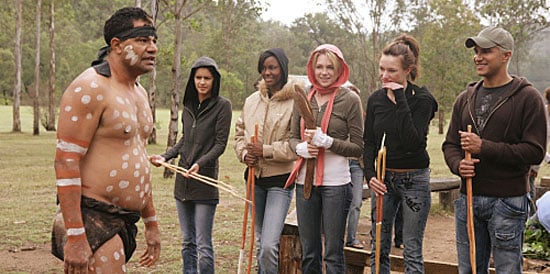 1
"America's Next Top Model": Here's To Frenemies!
After being all excited for last night's episode of ANTM, "The Girl Who Does Not Want To Dance" was pretty much a bore. I didn't even cringe at cultural insensitivity nearly as much as I thought I would from the commercial. The show opened with the most excitement of the episode, which was basically brilliantly kooky Natasha making kissy noises into the phone for her husband. Riveting stuff. From there...it was downhill. Plus, not nearly enough crazy Ty-Ty. At all.
For the first challenge the girls were brought out to "the bush" to watch a group of young Aboriginal kids perform. The models were each then to cover themselves in body paint as they saw fit and perform a similar story-telling dance about themselves. If you couldn't tell from the name of the episode, this challenge didn't go so well. In fact, only Renee really did it at all (and therefore won by default). Dionne and Jaslene half-assed it while Natasha whispered a bunch. Oooookay.
For the actual photoshoot, the girls had to pose in form traditional Aboriginal dances. Compared to last week's Hottt Pixxx, these ones were weak. None of the girls really connected with the camera (see, I can talk model). Natasha was all of a sudden sick for whatever reason and blamed her lackluster performance on not feeling well. Again, Renee seemed the strongest. Hmmmm....are they setting her up for a win or an upset by one of the other girls?
To learn what happened at the TOTALLY COMPELLING panel discussion just
At panel, all the girls had to say who they thought would had the most potential and who had the least. Only Dionne didn't choose herself as the most (whoops!) while all the girls other than Natasha choose our favorite Mail Order Bride as the weakest. As for why the girls all singled her out, Natasha said something vaguely comprehensible about how she would choose Gisele as the weakest if they were competing against each other. Uh, it made sense when she said it.
Thankfully Dionne finally got the boot for her string of weak photos. It's about time. And then there were three. Next week is the finale (yay!) and it's any model's game. I would like to say that Natasha will take the marginally useful crown, but something in my gut is telling me that this season belongs to Jaslene.
Thoughts on the episode? Did you guys like any of these pictures? And, do tell, who do you think will Become (duh duh duh) America's Next Top Model and how will it go down?!?!
Photos courtesy The CW