American Horror Story Coven Recap For "Boy Parts"
American Horror Story: The Most Insane Moments of "Boy Parts"
This week's episode of American Horror Story: Coven brings us deeper into the Deep South, and I've found myself completely invested in almost every plot point. Misty Day seems to be pretty powerful competition for Fiona Goode, and this time around, she's bringing more than birds back to life. We learn Queenie ended up in the school after voodoo deep-frying her hand, but we're still not sure about clairvoyant Nan's story. Worst of all, there's one more big bad witch on the scene; the voodoo queen Marie Laveau has been alive for 180 years, and she's not going anywhere.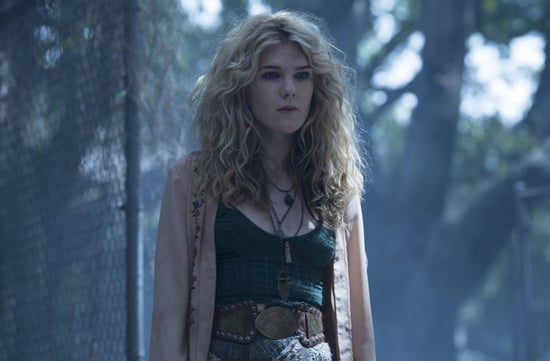 Given the cultural divide between enormously powerful and sinister witches, the intense gifts possessed by girls with little to no experience in witchcraft, and the emergence of even more dark magic, it's already shaping up to be an pretty intense season. Let's go over the most insane moments from "Boy Parts" after the jump.
Misty Day is alive! This week's episode begins deep in the Louisiana swamps, where Misty has seemingly risen from the dead. She takes the lives of a couple crocodile hunters before she wanders back towards the city. Looks like she can even use her powers to bring herself back.
Madison and Zoe make a modern day Frankenstein's monster. Even though I've become so desensitized to messed up stuff on this show, there's a moment every once in a while that really crosses the line. This week's moment happened as I watched the girls sort through the severed body parts of the frat boys at the morgue. It only gets worse as they stitch together the "perfect boyfriend" and perform a necromancy spell that involves Madison swearing her loyalty to a devil named Azazel. Kyle springs back to life, but it looks like it's less from the spell and more from Misty Day's sudden appearance. Or maybe that just means Misty Day is Azazel (I wouldn't put it past her, she's pretty scary).
Fiona Goode lays down the law. Two policemen come to question Madison and Zoe on their involvement in the bus crash and in-hospital death of the survivor. Zoe admits to everything, and Fiona steps in to wipe every bit of information from the officers' minds. Fiona nearly melts one of the officer's brains to mush, and then proceeds to throw the girls against the wall with the flick of her finger; she tells them that she is the only thing they should be afraid of. I mean, I'm pretty afraid of her, too, so there you have it.
Madame Delphine LaLaurie and Marie Laveau are both alive . . . and immortal. To answer the burning question from last week, Madame LaLaurie tells us the story of how Marie Laveau hanged her entire family and sentenced her to an eternity inside a wooden coffin. But that's not all: Fiona tracks Laveau down, who is also alive and well, and owns a hair salon in the city. While it seems like Fiona's not thrilled to ask Laveau for help, her obsession with receiving life everlasting is greater than her pride. And don't even get me started on the end, where Laveau unties an actual minotaur and lets him loose on someone (we don't exactly know who yet). Is that the same guy from before? Or did she just magically

breed

a minotaur from scratch? Either way, holy crap.
Cordelia Foxx uses black magic to get pregnant. After we learn Cordelia is married and is trying to get pregnant, we also learn that she's having a hard time making it happen. After a little convincing from her husband, she tries her hand at black magic, leading to a pretty terrifying sex scene. If I start having nightmares about Sarah Paulson's breasts and black demon eyes, I'll know who to blame. Something tells me they might get a little more than they bargained for. Perhaps more demon babies?