American Horror Story Recap of "The Axeman Cometh"
American Horror Story's Most Twisted Moments
Magic is great and all, but this week an old-fashioned murderer visits American Horror Story, and his name is The Axeman. Danny Huston guest stars as the creepy killer, and his chilly demeanor is the coolest we've seen since Dr. Thredson's back at the Asylum. While he lives, dies, and lives again, the girls are trying to get to the bottom of Madison's disappearance, and Kyle shows up again! You know, the little lost Franken-frat boy who we last saw darting out into the streets on Halloween.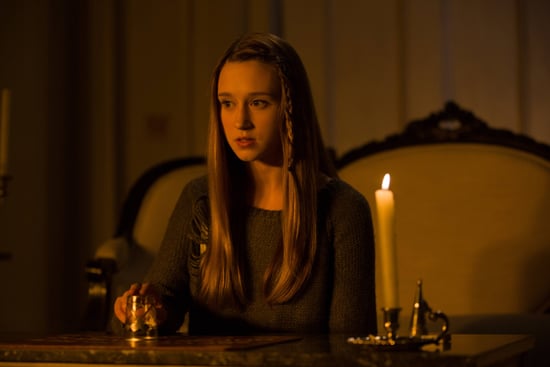 Meanwhile, Fiona is pretty busy reading the minds of her fellow chemo patients (she has cancer, in case you forgot) and Cordelia is adjusting to the blind life. If you're not too busy pumping up the jazz to celebrate American Horror Story's fourth season renewal, let's get into the weird bits after the jump.
Ye olde

coven

knifes The Axeman to death. The scene? New Orleans, 1919. A notorious murderer nicknamed The Axeman — who was a real person, by the way — has sent the city a letter stating that whoever plays jazz music on the night he's passing through will be spared a gruesome fate. Naturally, the witches residing at Miss Robichaux's Academy, headed by awesome guest star Grace Gummer, reject his request and instead play opera music. It's a trap and they lure him in and stab him to death. You know what they say: the coven that stabs together, stays together.
Zoe finds Madison rotting in Spalding's trunk. Spalding isn't terribly happy that his plaything has been found, but his attempt to silence Zoe falls flat when her fellow witches come to her aid. Since he can't talk (no tongue and whatnot), Nan volunteers to read his mind for a confession, and that's when it gets gross. We all know Fiona killed Madison, but he lies and says, er, thinks that he killed her. He claims it was to sate his sexual appetite and goes on in revolting detail about his necrophilia fetish. I can't with this.
Zoe and Misty bring Madison back from the dead. A cockroach climbs out of her mouth and the first thing she says is "I need a cigarette." Welcome back, witch.
Misty Day is watering a person in her garden. Misty is hands down my favorite character of the season. She loves Stevie Nicks (I can't wait to see what happens when the singer guest stars!) and she's flat-out crazy. She's growing a person, who I can only assume is the recently deceased and resuscitated Myrtle Snow, in a mound outside her house. It's nuts, and it's everything I love about this show.
Kyle is back and suffering from PTSD. Are things ever going to get better for Kyle's story line? He dies, then he's stitched back together and brought back to life, except that he's pretty much brain-dead. Then he gets raped by his own mother, and now he's just traumatized and neurotic. It's not that I don't feel bad for the guy, I'm just kind of bored.
Hank is a witch hunter. Not only is Hank cheating on Cordelia, he's using her to get information about witches from the original Salem bloodline . . . and he's feeding it to Marie Laveau! Ugh, Hank disgusts me.
The Axeman is unleashed on New Orleans — and he's tangling with Fiona. Zoe keeps making poor life decisions this week, allowing The Axeman to come back to life and eventually letting him out of the house. Before he escapes the confines of Miss Robichaux's, however, he terrorizes poor, blind, nearly naked Cordelia. Doesn't she have enough on her plate, what with suddenly being able to see her husband's cheating ways? In any case, he winds up at a bar next to none other than Fiona. Is it a coincidence, or is he exacting his revenge on the witches via their Supreme?