American Horror Story Recap "The Dead"
American Horror Story's Most Twisted Moments
Love is in the air this week on American Horror Story! Kyle may be a zombie, but he's finally found something he's good at: romancing the witches. Which witches, you say? You'll have to keep reading to find out. Over on the other side of town, Fiona is getting busy with the creepiest guardian angel of all time, and everyone is too busy to notice Queenie turning her back on her coven. I'm even more into this show now that I know the true stories behind its real characters.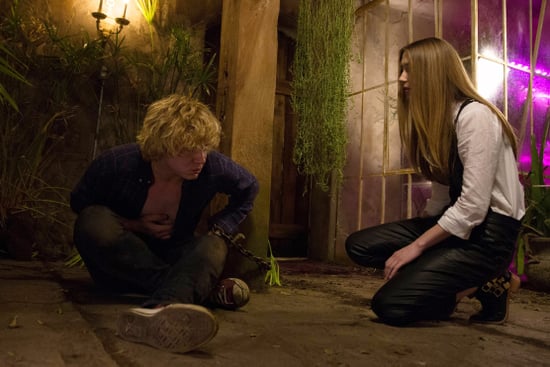 Somewhere else in the world, Hank is planning a war — at least, that's what it looks like. He's got enough firearms spread out on his floor to decimate a medium-sized town, and he wants Cordelia back. Enough about Hank. Let's talk about the episode's most twisted moments when you read more.
Zoe, Kyle, and Madison have a threesome. The best part of this episode is the intro, when we get to see Kyle as he used to be: a fun-loving frat bro with a bright future and exactly zero tattoos. Now look at him: he can't speak, his movements are spastic at best, and he's got his late bro's poorly tatted leg attached to his body. At least he gets some action this week when Madison seduces him with her feminine wiles. Even though the whole thing is kind of icky, I'm glad he finds someone to relate to, her having been dead too and all. The real twist comes later when Madison and Kyle invite third-wheel Zoe to join them in bed. Nothing sexier than a threesome with two zombies, right?
Cordelia sees that Fiona killed Madison. Cordelia's special vision power is developing nicely, and when she touches Madison, she instantly sees that it was Fiona who killed the girl. Too bad Fiona is out having a tryst instead of at home where Cordelia can yell at her to death, or whatever she would do as a retaliation. Let's face it: Cordelia isn't that great.
The Axeman and Fiona are a thing now. Initially, this relationship actually made sense to me. She's a crazy witch, he's a psycho killer, so why not get together? As their story unfolds, however, things just get creepier. I forgot that he has been trapped in the Academy for decades, watching Fiona grow up. He defends her when she's a child, and he falls in love with her as she matures into a woman. Maybe I'm a prude, but there's something supergross about this whole thing. I do love when Fiona says, "I don't believe in ghosts!" Lady, you're a witch.
Madame LaLaurie kills a baby . . . then uses its blood as facial moisturizer. Really? A baby? Just as I was starting to come around to this new, socially aware Madame LaLaurie, she has to go and kill a baby in a flashback. Not cool.
Zoe kills Spalding! You go, girl. Spalding has been a nuisance this whole season, lurking in the shadows and watching Fiona murder people. Zoe puts his tongue back in (magic style), coerces the truth that it was Fiona who killed Madison, and then promptly stabs Spalding. The dirtbag had it coming.
Queenie turns Madame LaLaurie over to Marie. And after they had such a sweet moment at the drive-through, too! Queenie is feeling left out by her sisters, and who is there to welcome her into a new coven but Marie Laveau? Race politics are still holding steady in New Orleans, and Marie assures Queenie that she belongs with the black witches, as long as she brings over her old nemesis, Madame LaLaurie. Queenie complies, and by the end of the episode, LaLaurie is locked up in a torture chamber that is strikingly similar to the ones she used to employ for her slaves. There's something pathetic about seeing her sporting a sweatshirt with a tiger on it in there, but hey, what comes around goes around.