American Horror Story Recap Episode "Continuum"
American Horror Story: The Most Insane Moments of "Continuum"
School is almost out for American Horror Story: Asylum. With next week's season finale looming, the writers had some work to do, which makes me all the more impressed to report that "Continuum" is one of my favorite episodes since the season began. The story jumps around a bit, following — spoiler alert — the death of Bloody Face and the reemergence of the presumed-dead Alma and her baby. Briarcliff is in the rear view for Kit and Grace, and now that we're out of the mental ward, we're reminded that it's the swingin' '60s! Though in this case, it's less Austin Powers and more Sister Wives.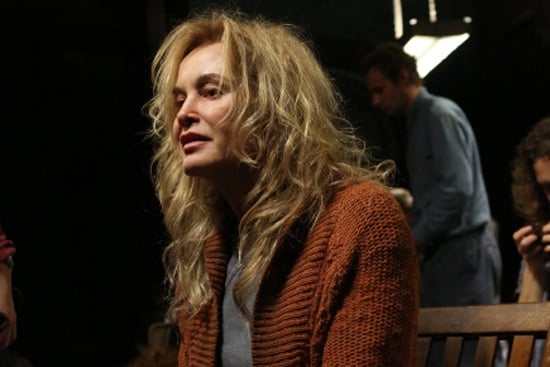 That's right. Seems Kit, Alma, and Grace find an "amicable" way to settle their situation, at least for a while. More on that in a bit. Flash forward and we encounter Lana at a book signing for her bestselling memoir. Lana's fulfilled her promise to expose Bloody Face, but she isn't quite the beacon of truth and morality that she promised Sister Jude she would be. Lace up your straightjackets and let's go through this week's most insane moments when you read more.
Alma, Grace, and Kit are one big, happy family. Am I the only one who's a little mad we're robbed of seeing the direct aftermath of Alma's appearance with the baby? Kit's story really goes in a direction I didn't expect. They skip ahead a couple of years to show the three lovers living together in harmony. They listen to The Grass Roots, they talk about participating in protests (it's the '60s, remember?), and they draw detailed pictures of the aliens who abducted them. Wait, I guess that's just Grace. Her fixation doesn't turn out too well, either . . .
Alma axes Grace to death. Jealousy can be a bitch, but I suppose getting probed by aliens, then having an alleged murderer in your house around your kids (and sleeping with your husband) could drive one a little crazy, too. I have to admit, when I saw Kit in the beginning of the episode covered in blood, I assumed he was the killer; it never occurred to me Alma would snap like that. Now that she's been committed to Briarcliff, the family really has come full circle.
Sister Jude hallucinates the Angel of Death. Sister Jude (aka Betty Drake) has been on the wrong side of Briarcliff a little too long. She seems to be having a good week; Pepper is her good friend, they have Candyland, and Monsignor gives her a solemn promise to release her from the asylum. Then things take a turn. The Angel of Death returns to Briarcliff, but as a rough-and-tumble transfer from a county facility. She toys with Jude for a while until it is revealed that Jude's been hallucinating the whole time, and over two years have passed since Monday. Pepper is dead, the Monsignor is now the Cardinal, and Briarcliff has been turned over to the state. Is Jude beyond repair?
Lana sells out. No doubt, Lana's been through a horrific trauma. So why doesn't she just tell the truth in her memoir? Instead, she expresses "the essence of truth" (her words) and manages to elaborate on the story of her imprisonment while omitting the romantic details of her relationship with her "roommate" — not to mention the fact that her child survived. I'm less upset about her lack of journalistic integrity and more insulted by the harsh tone in which she reprimands her assistant for bringing her a warm Tab. I mean, get over it. Let's hope her conscience is intact enough to help Sister Jude get out of Briarcliff, now that she knows she's alive.
Johnny Morgan has deadly plans for his mother. Guess who's not happy about Lana telling the world her child died at birth? The son of Bloody Face is taking his heritage quite seriously. This week, he does some drugs in a parking lot (was that a crack pipe?) and threatens a bookstore owner into giving him a signed copy of his dear mother's memoir. What's he gonna do with it? Shove it in Lana's face, proclaim his identity, and shoot her in the face. If you ask me, that's a pretty light punishment given some of the gruesome stuff we've seen go on this season.
How was "Continuum" for you? What do you hope to see in next week's finale? Will there be any tie-ins from the first season?