American Horror Story Recap Episode "I Am Anne Frank, Pt. 1"
American Horror Story: The Epilogue of Anne Frank
We're four episodes deep into American Horror Story: Asylum, and one thing is becoming apparent: unlike last year's haunted-house story, this season isn't about ghosts or supernatural creatures. No, Asylum is about something much more terrifying: the destruction that humans can inflict on one another. This week we find out the savage truth behind Grace's imprisonment in Briarcliff, Dr. Thredson attempts to "fix" Lana's "affliction," and the asylum gets a new patient claiming to be Anne Frank, all grown up.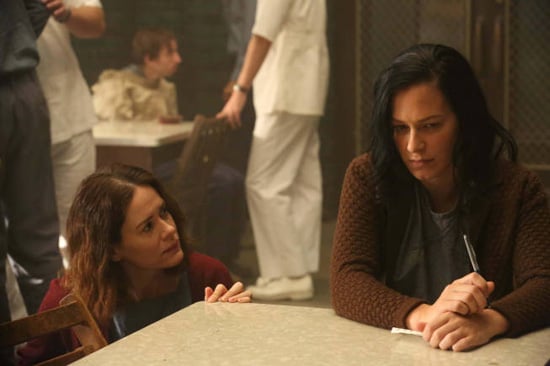 Oh, and in case you've been waiting with bated breath for the Nazi tie-in, this is your week. The tables get turned on Dr. Arden when Anne threatens to expose his dirty little secret. Let's talk about what goes on in this week's episode, "I Am Anne Frank, Pt. 1," after the jump.
Kit and Grace have been getting close over the past few weeks, being the only sane, attractive 20-somethings in the joint. Grace confides in Kit that she didn't kill her family . . . but wait, that's a lie. Can you blame her, though? Would he really have been down for

hanky panky

in the kitchen if she confessed from the get-go that she mercilessly hatcheted her whole family to pieces? Probably not.
Somebody get a name tag and a Jell-O for Anne Frank (Franka Potente). The new girl comes in with all kinds of claims, and, what's more, she's relatively convincing. Even Sister Jude seems to be unsure of whether it's possible that this woman could be the real Anne Frank. I don't know if I believe that, but I do believe she was at Auschwitz, and I buy her story about Dr. Arden. (Side note: that actor could not have looked more like a young James Cromwell if Dr. Arden himself grew him out of a petrie dish from his own DNA.) I can't wait to see what Anne does to Arden next week, though I hope she isn't too spooked by

Shelley

. Don't be scared, Anne; she's just your friendly neighborhood disfigured nymphomaniac!
I can't get a read on Dr. Thredson. One minute I think he's a force for good (if slightly misguided in terms of ideologies), and the next minute I'm sure he's got something evil up his sleeve. The exposure-therapy scene was hard to watch, and I can't tell if Thredson really believes Lana can change and genuinely plans to break her out, or if this is all some twisted game to him. Thoughts?
The monsignor's been flitting in and out of the past few episodes so sparingly that I kind of assumed that he's just around to look pretty. It turns out he knows a little about Dr. Arden's past, and he's protecting him. The question is: why? I'm getting that all of Briarcliff's staffers have questionable morals, but why keep a war criminal on staff? Does the monsignor condone the cruel medical experiments?
Sister Jude's crazy factor is considerably low this episode, especially after last week's relapse during the movie screening. The more she's confronted with her guilt over killing that girl in the road, the less concerned she is with punishing the inmates. Let's hope the trend continues, for everyone's sake.
What are your thoughts on the episode? Are you starting to think maybe Kit is the killer and he just blacked out? Is there any chance Anne is really who she says she is? And what's going on with The Lovers?