American Horror Story Recap, I Am Anne Frank Part 2
American Horror Story: The Most Insane Moments of "I Am Anne Frank: Part 2"
American Horror Story kicks the creep-factor into high gear this week, delivering easily the most revealing — and terrifying — episode of the season. I tend to think I'm pretty desensitized to the bloody tricks and treats offered on the show, but I may have to sleep with the light on after watching "I Am Anne Frank: Part 2." We pick up where "Part 1" leaves off, with Dr. Arden hobbling away in the aftermath of Anne Frank's attack. It doesn't exactly turn out as she planned, but she's offered a chance to get out of Briarcliff later when her hubby comes along. She's not the only one who gets to take leave from the asylum; Shelley's will to survive gets her far off grounds, and Lana discovers there's a much, much worse place to be than in the common room. And remember Bloody Face? We meet him.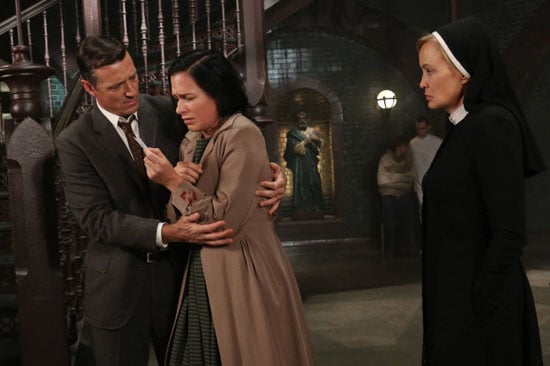 Warning: this post contains some major spoilers, so if you haven't watched the episode yet, then you may want to take a raincheck on reading. If you have seen it and are eager to talk Asylum, I'm detailing the most insane moments after the jump.
Lana realizes Dr. Thredson is not who she thinks he is. I don't remember ever being as tense during a TV show as I was watching the last 20 minutes of this episode. As soon as Dr. Thredson tells the security guard, "I don't work here anymore, Frank. As a matter of fact, I never did. You can tell her I said that," the reality of the situation hit me like a ton of bricks. I even screamed at Lana to get out of the car, but she couldn't hear me. The scene in which she slowly realizes the things in his superposh '60s home are made of human body parts (skin lamp shades and skull-bone candy dishes) is pure mad genius.
Dr. Thredson puts on the Bloody Face mask. There's something disarming about a really good-looking serial killer. Even though Dr. Thredson — if that is his real name — is clearly insane and he's approaching Lana downstairs in his workshop, it's almost hard to see him as a threatening person because of his handsomeness. Then he puts on the Bloody Face mask made of human flesh, including her lover Wendy's teeth. That is an image that will haunt me forever.
Shelley the Mutant — I mean, Nymphomaniac — escapes. For a few moments, I was wondering what new horrors await the little girl at the water fountain, but then I realized it's a familiar horror as Shelley gimps out of the shadows, crippled with her skin peeling away. I was sure a sheriff would appear and shoot the poor, determined legless wonder before she gets a chance to explain what happened to her. It appears she's "safe" for now, but has she lost the ability to talk?
Dr. Arden gives Anne Frank a lobotomy. Continuing on this week's theme of things I will never be able to unsee, Dr. Arden hammering a pick into Anne's brain (old-school style through her eye socket) is horrifying. If it was so disturbing for me, I can't imagine how her Ward Cleaver-type husband must feel watching from the peanut gallery. What I did like about Anne's story this week are the vintage Twilight Zone-y flashbacks they have of Anne's home life before she came to Briarcliff. Colorful yet depressing, and even more so postlobotomy.
Grace gets abducted. What's worse: being sterilized by Dr. Arden or being probed by aliens? I'm a little confused as to what happened to Grace. She's in the cell awaiting her surgery when the aliens, including Kit's wife, Alma (incidentally, awkward . . . ), abduct her and test her body. The next day she's in the common room bleeding; are we to assume the aliens sterilized her or that she was prodded and then sterilized by the doctor the next day?
Are you as haunted by this episode as I am? Is Sister Jude done with Briarcliff for good, and is anyone else surprised that she's slowly becoming antihero this season?