American Horror Story Recap of "The Origins of Monstrosity"
American Horror Story: The Most Insane Moments of "The Origins of Monstrosity"
Think you have daddy issues? Think again. This week's episode of American Horror Story makes everyone's mild psychoses look like child's play. Following last week's big reveal of Bloody Face's identity, Lana is finding her new home in his basement to be considerably worse than a subpar bed-and-breakfast. It's a shame, too, given all the work he must have put into replicating her bedroom (plus some chains and plastic drapes) in his murder chamber. Back at the farm, Briarcliff gets a temporary guest in the form of a creepy child. "The Origins of Monstrosity" is sadly lacking much of Kit, but we do get more on Sisters Jude and Mary Eunice, as well as some finite evidence on Dr. Arden's background.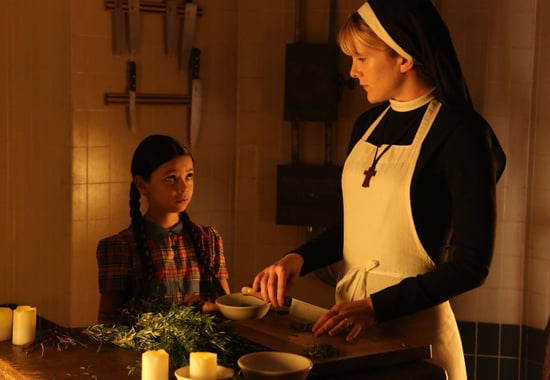 Anyone still care about the Lovers? They're back — at least, one of them, anyway — and a wrench gets thrown into the time line as the "real" Bloody Face pops up in modern day. For those that want to relive all the disgusting details, I'm recounting the most insane moments of this week's episode after the jump.
Bloody Face gets real close to Lana. My face spent every Dr. Thredson scene contorted in disgust. Can we even call him that anymore, or is he to be known simply as Bloody Face from now on? In any case, BF lets Lana in on his past a little bit. We learn that his mom left him when he was a wee lad, and that's why he's been capturing and skinning unsuspecting women. In the words of Dr. Evil: boo frickin' hoo. It's hard to sympathize with a guy who's holding someone hostage, even if he is feeding her delicious croque monsieurs. When he leans down onto her at the end of the episode to — I'm grossed out that I even have to type this — attempt to breastfeed, I almost threw up a little bit.
Sister Mary Eunice fatally stabs the detective. I'm sorry, but how has no one noticed there's something up with Sister Mary Eunice until now? She's been inhabited by the devil for a while, but it takes her stabbing some poor guy in the jugular for anyone to notice something's a little off? Will Sister Jude put together what's happening? And will she be able to take down Dr. Arden and Sister Mary Eunice/Satan before it's too late?
Bloody Face is holding Teresa hostage. I thought the Lovers were both dead, but it turns out Teresa is being held hostage by the "real" Bloody Face, who is superpissed about those messed-up teenagers pretending to be him. We all know, there can only be one. But what does this mean — is Bloody Face now just really old, or does some cosmic time-travel come into play?
Monsignor puts

Shelley

out of her misery. Monsignor must be the only game in town because he randomly gets called on to read Shelley her last rites at the hospital. Instead of doing that, he's like, "Hey, maybe I should just strangle her with my rosary." The way he flips out at Dr. Arden proves that he at least has some semblance of a conscience, but I don't believe that he didn't know what Dr. Arden was up to with his experiments. Now that he's seen Spivey's revolting, welted face, will he repent?
The creepy kid kills her whole family. We have enough going on already, so I'm kind of at a loss as to why this story is thrown in here. Void of any emotional cues, except for a giggle in the kitchen when Sister Mary Eunice/Satan relates to her a bit, I find this kid to be pretty boring. Having said that, the girl should at least get an honorable mention for stabbing her whole family to death with scissors. Oh, sorry, I mean the tall man in the brown jacket did that. (Nope.)
What did you think of "The Origins of Monstrosity"? Were you as saddened by the uglifying of Mark Consuelos's usually beautiful face as I was?