American Horror Story Recap of "The Replacements"
American Horror Story's Most Twisted Moments
This week's American Horror Story: Coven is messed up with a capital "F." Twisted, boundary-pushing, and altogether irresistible, the episode culminates in a jaw-dropping moment. Madison and Zoe have created Franken-Kyle and Misty Day has healed most of his wounds, but what do you do with a stitched-up shell of a guy who can't even talk? You take him to his mommy. Meanwhile, we get a glimpse at young Fiona back when she takes over as her coven's Supreme, and Madame Delphine LaLaurie gets a taste of her own medicine.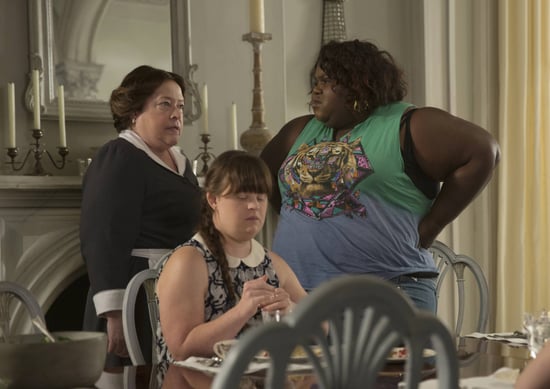 Speaking of LaLaurie, the terrifying minotaur she created out of her former houseboy has come back to haunt her, and an unlikely ally intervenes. This season of the show has thrilled me at every point, and even though this episode is a whole new level of messed up, it's still pretty fantastic. Let's go over the most insane parts, and yes, we'll talk about that part. That other part, too. And yes, obviously the ending as well. Get the recap read more!
Young Fiona murders her mentor. Fiona is the Supreme of her coven, but as we find out, she assumed her position before her time. Instead of waiting like a patient little witch, teen Fiona slices her mentor's throat, right there in Miss Robichaux's Academy for Exceptional Young Ladies back in 1971. That's one cold-blooded witch.
Madison sets the neighbors' drapes on fire. Madison doesn't really know how to handle her business yet, and when the girls see a sexy new neighbor moving in (hello, shirtless Alexander Dreymon!) they bring over some Southern hospitality. His Bible-thumping mother (guest star Patti LuPone) is less than pleased to see the women fawning over her son, and a power struggle leads Madison to throw a knife in the wall and set the drapes on fire, all with her mind. It's a good thing Fiona decides to take Madison under her wing; the girl has a lot to learn.
Kyle's mom molests him, then he kills her. Wow, American Horror Story, just . . . wow. Zoe drops Franken-Kyle on his mother's doorstep. She seems like a very nice lady in grieving over her dead son, but things turn weird really quickly when she starts describing how his body doesn't look the same. First she sees him in the shower, which is not normal for a guy of his age, then it takes a serious turn. She starts molesting him in bed, and given that he's essentially in a zombie-like state, he can't do anything about it . . . until later when he decides he's had enough and bludgeons her to death with a trophy. It's both horrifying and gratifying.
Queenie tries to seduce the minotaur. Just when you thought this week's episode couldn't get more sexually uncomfortable, the minotaur scene happens. Marie Laveau sends the minotaur after his former torturer, Madame Delphine LaLaurie, who has transformed into a horrendously racist maid for the school. Queenie goes out to investigate the minotaur, but instead of fighting him, she feeds him some lines about knowing what it's like to want love, then she starts touching herself. The minotaur, seemingly receptive, comes up from behind her and just as you think he might be into it, caressing her with his horns, he jerks around and — commercial! So, is Queenie having an affair with the minotaur, or did he just slay her?
Fiona slices Madison's throat. Hey, remember when I said Fiona takes Madison under her wing? Ha! I really had you going there. Fiona takes Madison out for a rousing night on the town (at the disgusting pool bar where she can get leered at by old men with leather jackets) then once back at the house, she commences with a long speech about youth, power, and how she has terminal cancer. I don't even know why Fiona bothers with the whole routine when she's clearly planning on slitting Madison's throat the whole time anyway, right? Also, what's the point of being a witch if you can still get cancer?
Other highlights: Madame Delphine LaLaurie hissing "liiiiiiies" at the suggestion that America now has black politicians, Marie Laveau saying "baby gravy," and Misty Day waxing poetic about Stevie Nicks some more.