American Horror Story Recap of "Spilt Milk"
American Horror Story: The Most Insane Moments of "Spilt Milk"
Well, that was gross. This week's episode of American Horror Story finally wraps up a main storyline, but it also contains the most vile thing I've ever seen on TV. We learn all about what drives modern-day Bloody Face to his murderous ways, but not before a nauseating (and more than a little traumatizing) scene with a pneumatic prostitute who . . . nurses him. Yes, it tops the list of things I can't unsee, but I won't cry over spilled milk.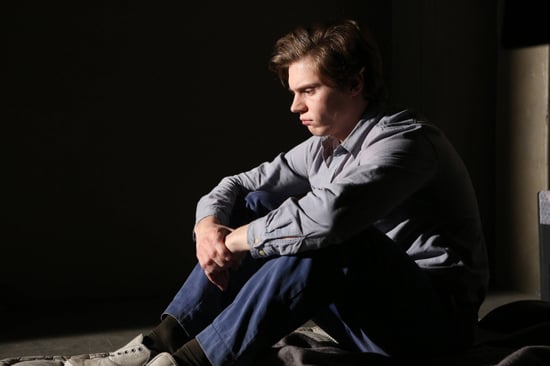 Now that Sister Mary Eunice and Dr. Arden have met their fate, there's room to focus on the alien subplot. It seems that it's not so much their existence that matters as it is the baby they plant inside of Grace . . . and Alma? Let's break down the most insane moments of this week's episode when you read more.
Johnny gives new meaning to mommy issues. Johnny, aka modern-day Bloody Face, is more than a little messed up. For example, a typical Tuesday night might involve hiring a well-endowed prostitute to play his breastfeeding mommy. I was already feeling queasy when the call girl dirty/baby-talks him, but I almost retched when he comes up for air with milk dripping down his chin. To top it all off, it's his fixation on his mother that drives him to kill.
Lana offs Dr. Thredson. Finally! After all the straightjackets, rape, and endless captivity, Lana gets her justice — and revenge. Not only does she get to flip Dr. Thredson the bird as she drives away in a cab (that might have made the months of hell worth it), but she also ends him with a bullet to the head. And Thredson's taped confession that he's Bloody Face makes its way to the press, thus freeing Kit.
Grace reveals what happened "up there." Kit, Grace, and her newborn baby may look like the picture of perfection, but don't forget that that baby was injected into her by aliens. Further erasing any signs of normalcy, Grace tells Kit that their little bundle of joy is special, and that he will change the way people think (sounds like we have a superbaby on our hands). When Kit asks if she saw Alma during her abduction, Grace sadly tells him that Alma didn't make it. She asserts that the aliens are not cruel, but they're not perfect, either. He decides that Alma would have wanted him to do the right thing, so he proposes to Grace. But not so fast.
Alma is alive — and has a baby of her own. Just when you thought you were beginning to understand the whole alien thing, the show throws you a curveball. When Kit and Grace come home to the house he shared with Alma, they find that she's returned home too, with a baby of her own. Could Kit be the father?
The Monsignor fakes Sister Jude's death. It seems as if the devil has floated out of Sister Mary Eunice and right into Monsignor Timothy's body, as he is now the evil shot-caller at Briarcliff. After Sister Jude reminds him that he relinquished his virtue to the devil and calls his ambitions of becoming pope pitiful, the Monsignor throws her in solitary. When Lana fulfills her promise to Jude and comes back for her with two cops and a warrant, the Monsignor, who doesn't appear too grief-stricken, informs them that Sister Jude has hanged herself. Not only is she not dead, but also, she's calling on Saint Jude, who is, appropriately, the patron saint of lost causes and desperate cases. I hope he answers fast; does he know there are only two episodes left?
What did you think of "Spilt Milk"? How do you think the Kit-Grace-Alma love triangle will get resolved? And will Sister Jude be able to stop the Monsignor? But more importantly, did you also throw up a little?