American Horror Story Season 2 Spoilers
Get the "Bloody" New Details on American Horror Story: Asylum
American Horror Story fans — including myself — are chomping at the bit for new information on season two, ominously titled Asylum. Though by now we've met most of the cast, little has been leaked about their characters or the new plot lines, but this week's Entertainment Weekly has some clues. Asylum will feature aliens, Nazis, and Bloody Face, a killer who's got such a horrifying tradition I don't even want to repeat it here. Check out all the gory details on American Horror Story: Asylum.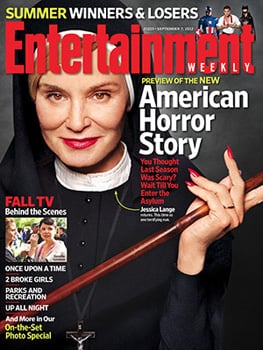 Jessica Lange on her character: "If I were playing a straitlaced nun, start to finish, I can't say that would interest me too much . . . What's great are the extremes. To go from where she was and where she's getting to, that's what's going to be interesting."
Cocreator Ryan Murphy on his viewers: "I don't think people tune in to the show because they want My Dinner With Andre. I think they want to be scared. I'm just writing what I would like to see. I'm scared of aliens and I'm scared of Nazis and I'm scared of nuns. So it's the perfect stew of horror and fear."
New cast member Adam Levine on the new season: "It is absolutely terrifying. Very gruesome . . . What's great about the fact that it's on FX is that you can go too far. You can do really unorthodox, crazy things that people are going to talk about."
Cocreator Brad Falchuk on how he sees Asylum: "To me, last year was a family drama. This is our version of a workplace drama."