American Horror Story Season 3 Coven Spoilers
3 Things We Now Know About American Horror Story: Coven
Jessica Lange lit up the TCA stage as the cast of American Horror Story: Coven answered questions for the press. With her were costars Sarah Paulson, Kathy Bates, and Angela Bassett and executive producer Tim Minear. The new season of AHS isn't debuting for a couple months — they just began filming last week in New Orleans — and the show's creators are notoriously cagey about disclosing plot details, but that didn't stop the cast from giving away a few tidbits. We already knew this season would be about witchcraft ("The subtitle is Coven," stressed Lange), but read on to find out all the new information we got about the upcoming season.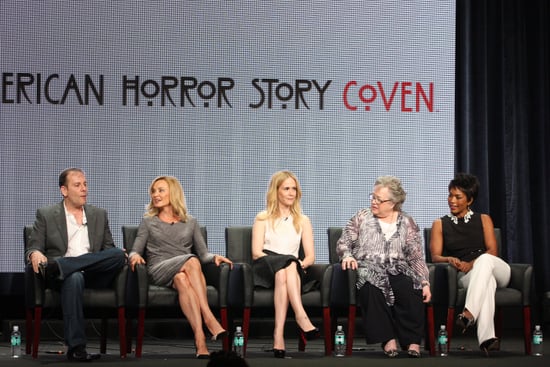 Character Names!
Names! We have names! At least for the panelists: Lange will play Fiona, Paulson is Cordelia, Bates is Madame LaLaurie, and Bassett is Marie Laveau. Lange also confirmed, "I do play a witch," though Minear said not everyone is playing a witch.
Sarah Paulson Will Play Jessica Lange's Daughter
One big piece of information we got is that Paulson is playing Lange's character's daughter. Though they both starred in seasons one and two of American Horror Story, they've never played characters that are related by blood before. After the reveal, Paulson joked, "Isn't that a nugget? That's tasty, chew on that for a while." When asked if the character name Cordelia was a reference to Shakespeare's King Lear, Minear suggested, "I would read into the Lear." Sounds like I'll be brushing up on my Shakespeare.
Some Characters Are Real People
Madame LaLaurie and Marie Laveau were real people, and both Bassett and Bates said they've been studying up on the women they'll be playing. Of her voodoo queen character, Bassett said, "There was a woman in the 1800s, very influential, who lived in the city so my character is based loosely on her . . . There's such a regard and respect for who she was." Madam LaLaurie (Bates) is probably better known in the South as Marie Delphine LaLaurie, a Louisiana-born socialite infamous for killing slaves and her husband. In this case, historical definitely doesn't mean boring: "We're gonna knock your socks off," promised Bates.