American Horror Story Season Two Premiere Recap
American Horror Story Season Premiere: Welcome to the Asylum
I've been looking forward to the premiere of American Horror Story's second season ever since, well, ever since the first season ended. Asylum definitely has the same twisted vibe as last year's haunted house story, but now we've got even more characters to crowd our nightmares and an insane theme to boot. Jessica Lange is back as an intimidatingly devoted nun working at Briarcliff, a home for the criminally insane, but Sister Jude isn't nearly as evil as I'd imagined she would be. Her terrifying factor has already been diminished by the introduction of Dr. Arthur Arden (James Cromwell), Briarcliff's resident medical consultant/torturer. But I'm getting ahead of myself.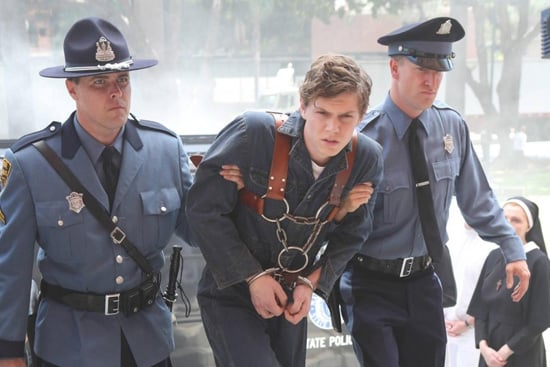 We first meet The Lovers, Leo (Adam Levine) and Teresa (Jenna Dewan), and they get to meet Bloody Face, who may or may not be an incarnation of Kit Walker (Evan Peters), this poor kid whose wife was killed by aliens. Got all that? There's a lot going on here. I hope you still have your nightlight, cause I'm about to break it down when you read more.
Not many people would find "46,000 people died here" to be a particularly sexy phrase, but Teresa sure does. She and her new hubby go on a haunted honeymoon tour (which is a totally normal thing?) and the abandoned Briarcliff is their last stop. After they're done taking scenic pictures of the graffitied walls and fooling around on one of the old operating tables, Teresa probes Leo to stick his hand down a chute and he ends up minus one appendage, though thankfully for him, he's still got the one Teresa is attached to at the time. She runs, but she can't hide from Bloody Face. That's what you get for your lack of reverence, lady.
Did someone say probe? Because in the most unexpected turn of the night, Asylum has aliens, or at least something that skins young women and leaves unlucky Kit to deal with the fallout. Not only does he lose his secret wife — different times, guys — but he also might have been momentarily abducted by an interplanetary species. Briarcliff should be a walk in the park after you've been probed, right? Not if you get handpicked for insane medical experiments by an insane ex-Nazi doctor.
Ah, yes, Dr. Arden. He's meticulous with his flowers, but probably less so with the patients he's "examining," seeing as they all turn up dead. Or I should say, they don't turn up at all. Are they the mutants in the forest Sister Mary (Lily Rabe) is feeding? And why would she go against Sister Jude? What does the bad doctor have on her? Most importantly, what did he do to Babe?
What's worse: snooping around an abandoned, rundown mental hospital and disrespecting its former residents, or sneaking into a functioning institution so you can get a story on one of its inhabitants? If you're Lana, probably the latter. Seriously, what is she thinking going back there? I was so excited for the emergence of Clea DuVall as Lana's secret lover — again, different times — until she sells her out and signs her away to rot in Briarcliff. Good luck coping with that in couples therapy.
I gotta say the staff at Briarcliff really leaves something to be desired in terms of bedside manner and Sister Jude is at the center of it all. As I mentioned, I'm not convinced she's the enemy yet. Sure she's a strict, by-the-books lady and her beliefs are a little out of whack, but she seems to really think she's helping people to eternal salvation. She also appears to be dealing with her own less than saintly urges to seduce the Monsignor (Joseph Fiennes). On the sliding scale of corruption, she's leagues away from Dr. Arden.
Almost as terrifying as Briarcliff's employees are its residents. We meet

Shelley

the Nymphomaniac (Chloë Sevigny), a sex addict who is more comical than creepy, as she slinks around seducing male nurses. There's Grace (Lizzie Brocheré), the undeniably symbolically named patient who sympathizes with Kit, though it's possible she's chopped up her whole family. Oh, and don't forget that girl who drowned her sister's baby and cut its ears off. Just your typical new neighbors.
Are you looking forward to checking back into Briarcliff next week? Is the premiere everything you hoped it would be? Are you just as thrown as I am about the whole alien aspect? If Kit isn't Bloody Face, who is? And what really happened to Kit?