American Horror Story Surprise GIF
Surprise, B*tch: The GIF You Need to See
One perfectly delivered line on American Horror Story has become Internet gold, sparking the latest GIF craze across the web. Meanwhile, Beyoncé's new album has found one furry fan, Lil Bub is getting in the holiday spirit, and Jimmy Fallon has embraced his inner Justin Timberlake. Laugh over all that and more with a roundup of this week's most hilarious GIFs and videos:
Surprise, B*tch GIFs
Emma Roberts's character on American Horror Story makes an unexpected return, and her unforgettable line has become the star of a new GIF craze. It's been linked to Beyoncé, Jesus, and more thanks to the power of the Internet and its amazing versatility: "Surprise, b*tch. I bet you thought you'd seen the last of me."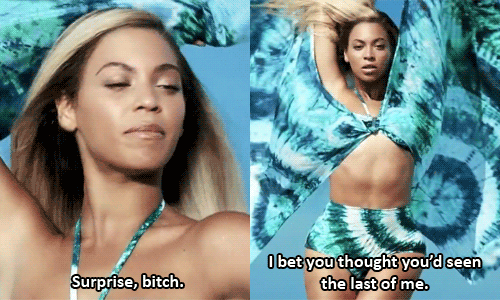 Airport Phone-Call Crashing
What would you do if a stranger started responding to everything you were saying during a cell phone conversation, as if he was on the other end of the line? Well, this guy did just that, and people's reactions were pretty priceless.
Beyoncé's Puppy Fan
One of the new songs on Beyoncé's album is called "Pretty Hurts," and this chihuahua totally relates.
For more funny finds, just keep reading.
Jimmy Fallon

Does His Best Timberlake

Jimmy Fallon is returning to the Saturday Night Live stage this weekend, and if his promo appearances are any indication, the holiday episode is going to be hilarious. His pal Justin Timberlake will be the musical guest, but Jimmy gives JT a run for his money with some great "Mirrors" vocals.
Anchorman 2 Meets The Daily Show
The Anchorman 2: The Legend Continues cast has been everywhere lately, but their appearance on The Daily Show marked one of their funniest appearances yet. Highlights including a wrestling match and the realization that Paul Rudd really, truly does not age.
Oh, Just Lil Bub and a Yule Log
Attention, Lil Bub lovers: There have been some funny yule log videos, and if you thought a yule log burning in the background was a great way to get in the Winter spirit, now you can get cozy with your favorite cat too. Cue a full hour of a Lil Bub purring by the fire for your viewing enjoyment.
Zach Galifianakis

's Holiday Special

Tobey Maguire and Samuel L. Jackson joined Zach Galifianakis for the holiday edition of Between Two Ferns, and it's every bit as weird and wonderful as you'd imagine.