American Idol 2011 Winter TCA Panel Jennifer Lopez and Steven Tyler Quotes and Pics
Jennifer Lopez, Steven Tyler, and Randy Jackson on How American Idol Is "Taking It Up a Notch"
American Idol hit the stage at the Winter TCA, and all eyes were on the new judges Jennifer Lopez and Steven Tyler. Randy Jackson, Ryan Seacrest, record producer Jimmy Lovine, and Nigel Lythgoe also showed up to talk about the different approach to the 10th season of the show, Simon Cowell's absence, and the fresh new judging panel.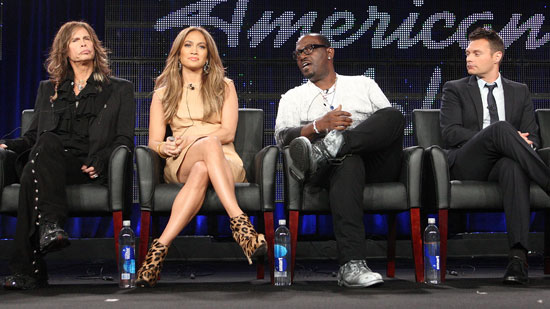 As expected, the spotlight was on Tyler and Lopez and why they wanted to join the show. Lopez, after saying that she loves the show and has been "a backseat judge" at home for years, admitted that she wasn't sure about it at first, but felt that there was no better place to put her career experience to good use. As fellow artists, Lopez says that they bring a different perspective since they can relate more: "We've been up there, we've auditioned, we've been through the ranks." That perspective, she thinks, will help the contestants grow.
On the first season without Simon, Jackson said, "We love him and we'll miss him," but he's excited about the new lineup, calling Tyler and Lopez a rock legend and a triple threat, respectively. Jackson is encouraged: "I think we're going to be good, man."
So how is the new judges table different? Lopez thinks that the new panel is "a much more collaborative table," and that they have a more supportive approach. Lopez says that they're "not here to break people down," but are "there to guide them through it and mentor them."
To hear more about the new American Idol panel, including details on the changes and what Lopez will be wearing, just read more.
Ryan Seacrest, on what it's like to have Lopez on the panel: "We've been groveling, we're in awe," adding that she's just "a different type of star" than Ellen DeGeneres or Paula Abdul. He's hoping her presence will shake things up: "It will hopefully be a little bit of a circus." He said he's inspired by the new life and loves it; that the whole new dynamic is "very funny," and that he thinks everyone will be entertained by it.
Even though Lopez is known for being glamorous, she won't be over the top with her outfits. She said she's just "a girl who likes to get dressed up," but she's not getting anything specially designed. But don't expect to be bored by her looks: "You know me, I change it up every single day."
When asked why he wanted a judging position, Tyler said that he believes his years of musicianship have made him able to recognize a star. He says an Idol winner has to have "that thing you can't put your finger on," and that "I think I know what that is." Tyler is very enthusiastic about the shows' new season, saying, "What Idol is all about now is taking it up a notch."
Lovine's explained his new role as mentor, saying that the goal is that "every week [each contestant's] performance improves." He said that in the past, "they weren't really getting the proper help to help them improve."
When Lopez was asked how she thinks she'd have done as an unknown contestant on Idol, she admitted that she didn't know. "I was very gutsy, very ballsy, [but] who knows?"
Lythgoe said the new changes, like putting fewer finalists through, are intended "to make sure the kids go in there with confidence." Exec producer Ken Warwick says that the differences this year are "great for us, and hopefully great for the public."
Stay tuned to Buzz for more TV news from the Winter TCA!