American Idol Debate on Lee vs. Crystal as Winner
Buzz Battle: Who Should Win American Idol?
The time has come once again to crown a winner of American Idol. What started off as a very promising season sadly lost steam along the way — but I still think we've got a pair of super-promising contestants on our hands. Tonight Lee and Crystal will show off their very different musical stylings for the last time, but who is more deserving of the crown? All season long, Buzz editor B has backed Crystal while Editor S is firmly on Team Lee. Check out their arguments for their respective candidates, and chime in with your own ideas about who should go home a winner!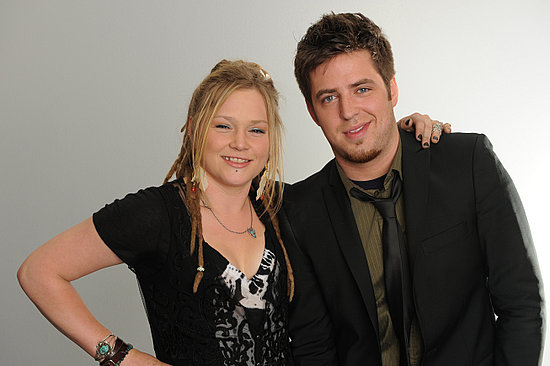 Editor S: Lee is far and away this season's most improved. He's exhibited real growth and has learned how to be a better performer by listening to the judges and gaining stage experience. I like nothing better than seeing someone green — but with raw talent — slowly mold himself into an Idol. To me, that's what the show is all about.
Editor B: Mamasox has been a powerhouse all season long. I was blown away by her way back during the auditions round, thanks to her soulful voice and complete comfort on stage. She hasn't changed at all throughout the season. I agree that Lee has improved more, but Crystal has been a performer from the start — why mess with a good thing? When you watch her, it's like you're already seeing an accomplished musician.
To see the other arguments and weigh in, just read more.
Editor S: Lee is the more commercial contestant, in both sound and image. If he wins, he's in for a successful, hopefully long career thanks to his bankability — heck, if he loses, he'll probably still have a successful career.
Editor B: There's no question that Lee is talented, but does the world really need another David Cook? There's nothing new or different about his sound, while Crystal is unlike any other Idol winner we've seen before. She's puts herself into every performance and there's a realness to her that can't be denied. Plus, we're due for a woman to win this time around.
Editor S: Unabashed gushing moment: I have fallen in love with Lee. He's not even my type, but when he's performing, he has a sexiness and accessibility that's important in marketing an artist. I'd bet that the other thousands of women tuning and voting feel the same way.
Editor B: A sex symbol she isn't, but Crystal still makes for a great role model. She's strong, independent, and a mother

to boot

— and that all comes through in her music. The music industry is already overrun with oversexed teenagers (not that I don't love Britney, Christina, and the like) but Crystal knows the true meaning of girl power, and that makes her the perfect woman to idolize (pun intended).
So who wins the battle — and who will you be rooting for?