American Idol's Makeover Is One of the Biggest Headlines of 2010
2010 Biggest Headline: American Idol Gets a Face-Lift
We thought the addition of Ellen DeGeneres would be the biggest thing to happen to American Idol in 2010, but boy were we wrong. Bigger shake-ups at the judges' panel started as early as January, and the drama continued well throughout the year.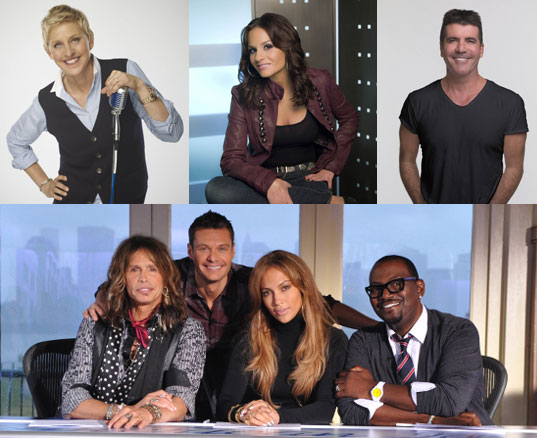 Before we even had time to prepare ourselves for a Paula-free Idol, Simon Cowell took the opportunity to announce that he would be leaving the show after season nine to bring X Factor to America. We got ready to savor every last moment of insult-infused goodness from crotchety Mr. Cowell, but little did we know that he wouldn't be the only face missing in the 2011 season.
As another round of memorable auditions (who could forget "Pants on the Ground"?), we finally got to see how Ellen fared on the panel. Unfortunately, Ellen seemed a bit intimidated by the thought of giving negative feedback to the nervous contestants, and ended up having a hard time standing out on the panel. Apparently, Ellen herself wasn't feeling entirely comfortable in her new gig, and the talk show host quit after only one season.
It was all downhill from there: days after DeGeneres bowed out, rumors started flying that Kara DioGuardi was also departing and that Jennifer Lopez and Steven Tyler were ready to step in. After a couple of months of contract disputes, it was officially announced that Tyler and Lopez would, in fact, be joining Randy Jackson for season 10 of Idol.
The changes won't end there, either: we recently learned that fewer contestants will make it to the finals, the themes will be different this time around, and the wannabe-idols will be required to create music videos. We're just a few weeks away from the new face of American Idol, but the real question is whether or not the show can retain its magic without Simon Cowell. Will you be tuning in?