American Idol Paleyfest Panel Recap
5 Fun Reveals From the American Idol Panel at Paleyfest
Paleyfest is underway in Los Angeles, bringing us insider tidbits and sneak peeks at upcoming episodes from some of our favorite shows. Last night American Idol stepped into the spotlight with a panel featuring Randy Jackson, Steven Tyler, and most of the Season 10 hopefuls. The lively cast joked about what happens in the house when the cameras aren't rolling, while Steven and Randy discussed what it's like at the brand-new judges' panel. Check out these fun tidbits from the panel!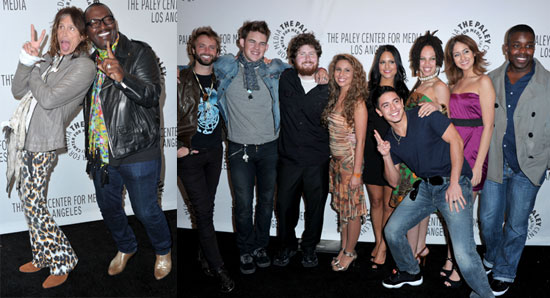 The Back-Up Plan helped Steven make his final decision. Steven said the first person who made him think about being an Idol judge was actually Kara DioGuardi, who texted him and asked if he'd ever thought about it when he wrapped up his last Aerosmith tour and was looking for things to do. He also said that while he was still deciding, he saw The Back-Up Plan on a plane and loved Jennifer's heart in it.
Randy isn't afraid to go his own way. When asked about disagreeing with Jennifer and Steven's opinions, Randy said, "I think we've now gotten to the point where we're cool disagreeing with each other."
The latest batch of idols have their own off-screen personas! It was revealed that Casey is the most insecure in the house, Jacob is the loudest, Thia is the shyest, Stefano is the most confident, and Naima is the mom. Aww.
Only 10 idols will make it to the tour. Despite the three wild card contestants, the tour will only feature contestants as usual, which means two more current hopefuls won't make the cut.
Steven was afraid that Idol would kill his rock star image. When asked about the risks of singing on the show, Steven said, "I wasn't sure if it was going to flatline my career with Aerosmith. It sounds silly now, but I actually thought that."
Check out lots of photos of the judges and contestants when you
.