American Idol Recap of Top 2 Performances
American Idol Finals: Lee and Crystal Go Head to Head!
It's the end of the road for Lee Dewyze and Crystal Bowersox on American Idol, who performed their final songs last night. Tonight we find out who the winner is, and meanwhile, we're also saying goodbye to someone else: Simon! So what did Cowell have to say for his last turn at the judges' table? Let's talk about how each of the performers did.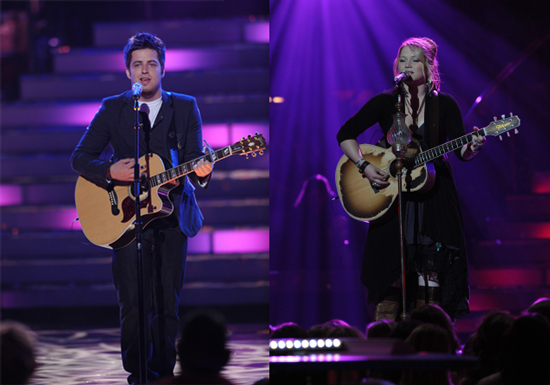 To break it down, just read more.
Lee Dewyze:
Song one: "The Boxer"
Thoughts: I enjoyed Lee's take on this song before, and felt he one-upped himself this time. Randy said it was a great way to start it off but didn't have enough energy, Ellen said it was better than the first time, Kara wanted him to punch harder, and Simon said he needed more passion and excitement.
Song two: "Everybody Hurts"
Thoughts: This was one of my favorite songs Lee has ever done, and probably the performance of his I was most impressed with all night. Randy liked it better than "The Boxer," but Ellen was critical of him pulling back. Kara liked that he seemed emotionally accessible, and Simon said it was a brilliant choice of song for him.
Song three: "Beautiful Day"
Thoughts: Lee dropped the guitar and tackled U2's hit. It was a very Lee version (confession: I liked it more than the original), but not quite the showstopper he needed. Randy appreciated that Lee was out of his element walking around without his guitar, Kara said that he had the most commercial voice of the season and had grown the most, and Simon didn't exactly critique — but he did say he wished Lee the best.
Crystal Bowersox:
Song one: "Me and Bobby McGee"
Thoughts: This was classic Crystal: strong, raw, raspy. Predictably, Randy said it was "dope," Ellen and Kara loved it, and Simon said she was back on her best.
Song two: "Black Velvet"
Thoughts: I didn't love this song choice for Crystal — she sang it well, but it's too cheesy and made her sound less than contemporary. It wasn't a problem for the judges, though; Randy declared that she was "in it to win it," Ellen called it fantastic, Kara said she wants it, and though Simon was wary of the song, insisted that Crystal nailed it.
Song three: "Up to the Mountain"
Thoughts: Crystal chose a real winner to end her Idol run with, showing soul and passion in addition to her beautiful voice. Randy called it incredible, Ellen said she was in a league of her own, and Kara praised her emotional investment in the song. As Simon's final critique, he said, "That was outstanding."