American Idol Season 10 Premiere Promo 2011-01-19 04:00:00
3 Questions For Tonight's Premiere of American Idol
Tonight begins the 10th season of the newly revamped version of American Idol. The reality TV powerhouse has undergone a ton of changes in the past year; Simon, Ellen, and Kara all left the show, leaving space for new crop of judges to take their seats in front of the stage.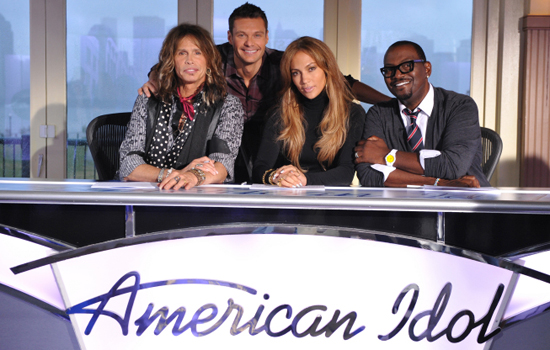 Jennifer Lopez and Steven Tyler will be joining Randy Jackson tonight for the very first series of Idol auditions, and I'm curious to see how the show's new dynamic shakes out. But before the episode airs, let's ponder a few pressing questions.
Who's the new Simon, (AKA the brutally honest one)? When it comes to biting criticism, Simon Cowell is king. But with him off the show for good, I'll be curious to see if any of the new judges can dish out the barbs quite like he does. Jennifer Lopez and Steven Tyler strike me as more supportive types, but someone's gotta be the voice of reality to these wannabe pop stars (Randy, is it you, dawg?). Also up in the air: the judge hierarchy. It's pretty clear how the chain of command worked on the old Idol; now with Lopez and Tyler both coming on board, will Lopez become the new face of the series? The promos definitely seem to hype her up as Idol's new draw, but Jackson is the veteran, so perhaps he'll get to have the final word on the show.

Two more questions, plus a promo video for the premiere when you read more.

Will we get to see the online submissions? For nine seasons now, the audition shows have felt very repetitive to me, with the same unusual characters (remember Mr. "Pants on the Ground"?) doing whatever they can for their 15 minutes of fame. Don't get me wrong, I love watching the hilariously off-key hopefuls, but I'm really jonesing for a little something to spice things up. This was the first year that American Idol opened up their process, so people could try out via MySpace, and I can't wait to see if they highlight a few of the entries during this evening's show. Perhaps contestants got even more creative in the comfort of their own homes?
What will Jennifer Lopez wear? I know it seems like a silly reason to watch, but I'm interested regardless. Lopez addressed her wardrobe at the Winter TCAs (wearing fierce leopard print shoes, no less), and ever since, I've been kind of psyched to see her Idol style. Even if she doesn't pull out all the stops, you know it's bound to be more exciting than Cowell's trademark black tee.