American Idol Season 12 TCA With Mariah Carey, Nicki Minaj
American Idol Season 12: The Nicki/Mariah Feud Certainly Seems Real
When American Idol comes back for its 12th season this month, there will be a lot more to talk about than the contestants. New judges Keith Urban, Mariah Carey, and Nicki Minaj have joined the panel, and rumors have been swirling about a supposed feud between Carey and Minaj. When the new panel, plus veterans Randy Jackson and Ryan Seacrest, came to TCA to talk about the new season of Idol, they did nothing to dispel the feud rumor. But amid the talk of conflict, we did learn some other things about the new season, like whether we'll see more country or rap because of the talent on the judges' panel.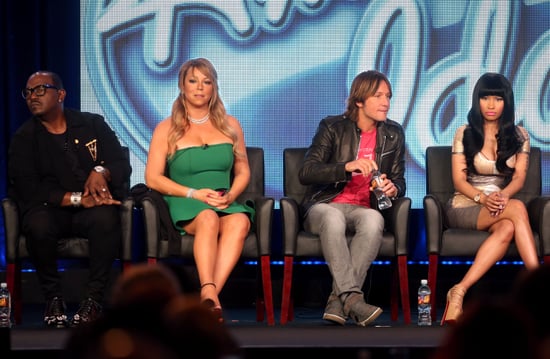 So is the feud between Minaj and Carey real, or is it all a ploy for publicity? Fox executive Mike Darnell said it's real. "It's authentic. There's passion in this group; they disagree about the talent. But it's not just the girls, it's everybody." Indeed, the general consensus was that everyone on the judges' panel has always argued, and this group is no exception. Carey added, "The fighting is what it is. This is American Idol. It's bigger than all that. It's bigger than some trumped-up thing. It's about the next huge talent superstar that will come from this show."
Minaj and Carey were asked to say one nice thing about each other, and they complied. Minaj said, "I tell her all the time, she's one of my favorite artists of all time. She's really shaped a generation of singers. To be on a panel with her, it's kind of crazy — all these singers that come in, they aspire to be Mariah Carey, in terms of their talent and their career length." In response, Carey talked about the song they collaborated on early on in Minaj's career and said, "I did feel she was going to go very far."
The judges all talked about their attitude toward saying no to contestants. It came easy to Minaj, who talked about judges on other series and seasons of Idol. "When someone says yes to a person who clearly doesn't deserve it, it bothers me," she admitted. "I didn't have a problem saying no because we're looking for the best of the best. I don't feel the need to send a person through just because of a great story." Urban didn't seem too conflicted either, saying that rejection is "a little bit like fuel for the fire . . . Those people have been far more influential in my motivation to achieve things. Hopefully the way we say no is not cold or brutal or callous, it's just being truthful for an artist." However, it wasn't so easy for Carey. She said, "It was really tough for me to say no in the beginning," because it reminded her of her own early experiences. "It's tough to get that rejection."
Since Urban is a country star, he was asked if the style would be more prevalent on this season of Idol. Urban ascertained that Idol has "always had a huge country audience," and producer Nigel Lythgoe agreed, saying, "We've always embraced country. Just because Simon [Cowell] didn't like it or understand it, it's something we've always loved."
But don't look for rap to be embraced. Minaj was very opinionated about rap not being appropriate on Idol, stressing that the show is more about traditional singing: "Rap and hip-hop is completely different than American Idol. I started on the street . . . the hip-hop community wants you to be credible." She added that personally, she "would never go on a show like this as a rapper, [and] I wouldn't encourage anyone to come on this show as a rapper."