American Idol Second Top 7 Elimination
American Idol: Who Deserves to Get Cut This Week?
In the wake of last week's non-elimination, the contestants stood strong for the intro to this week's show, but they must know performances are more important than ever now that the judges' save card is no longer in play. This was a particularly tough week because everyone had two songs. The first had to be a number one hit from 2000 or later, and the next was some soul "from back in the day" as Ryan Seacrest put it.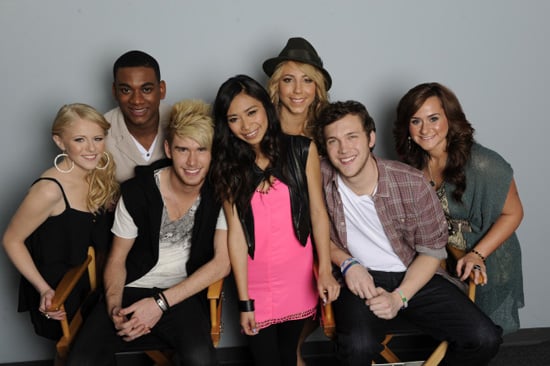 With so much on the line, Hollie kicked off the show with a bit of Adele, which the judges praised. Colton put a heavy rock spin on Lady Gaga's "Bad Romance"; Elise utilized her unique voice, and a wind machine, with "No One"; and Phillip Phillips picked up his guitar for his version of "U Got It Bad." We got a second scoop of Alicia Keys when Jessica Sanchez slayed "Fallin." It was the right pick for her, and the judges were all, "See America, we told you so." Lady Gaga also got double-dipped with Skylar's country rendition of "Born This Way," the spunk of which was cleverly juxtaposed with Joshua Ledet's simple, yet strong performance of "I Believe," which earned him a standing ovation from the peanut gallery. The last half of the show was filled with the usual suspects: Marvin Gaye, Otis Redding, and more Marvin Gaye. So after their two chances, who impressed you the most and who's heading home?