American Idol Top 10 Contestants, Plus the Wild Cards
Buzz In: Do You Agree With American Idol's Top 13?
Introducing your American Idol top 10! Or should I say, 13? The show made cuts left and right tonight, whittling down the final 24 to only 10 at first.
But then — there's a wild card! Pulling from the remaining 14, the judges chose three girls (Ashthon Jones, Kendra Chantelle, Naima Adedapo) and three guys (Stefano Langone, Jovany Barreto, Robbie Rosen) to give it one last shot. Ashthon chose the appropriate "And I Am Telling You I'm Not Going," Robbie performed "Sorry Seems to Be the Hardest Word" again, and all six really put their hearts out on the stage. In the end the judges saved three: Ashthon, Stefano, and Naima.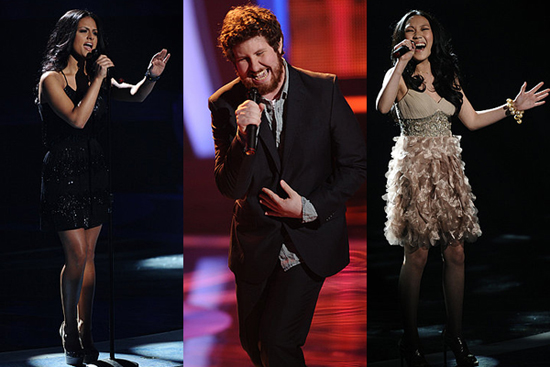 Check out the shortlist:
Scotty McCreery
Lauren Alaina
Pia

Toscano

Karen Rodriguez
Jacob Lusk
Casey Abrams
Thia Megia
Paul McDonald
Hayley Reinhart
James Durbin
Naima Adedapo
Stefano Langone
Ashthon Jones
As Randy Jackson himself said, it really was the hardest night ever. I was surprised to see a few contestants left out (poor Robbie!), but I do like the variety of the remaining group. There are a ton of different musical styles and personalities in the mix, which should make the competition interesting to watch. Were you surprised by the final group? I honestly didn't think Scotty would make it; he's a great singer, but his performances have felt ho-hum. Weigh in below with your thoughts, and tell me if you're happy with the results. Who would you have picked?