American Idol Top 11 Results Show: Thia Megia and Naima Adedapo Voted Off
Were the Right Contestants Voted Off American Idol?
It was a double whammy on American Idol tonight as not one, but two contestants were sent packing following Casey Abrams's save on last week's show. Apparently Casey's near exit was a wake-up call to America, as he was safe this time, but Naima Adedapo, Thia Megia, and Paul McDonald were sent to the bottom three. More than 55 million people voted this week — a new record for the show! — and in the end, it was Thia and Naima who said goodbye.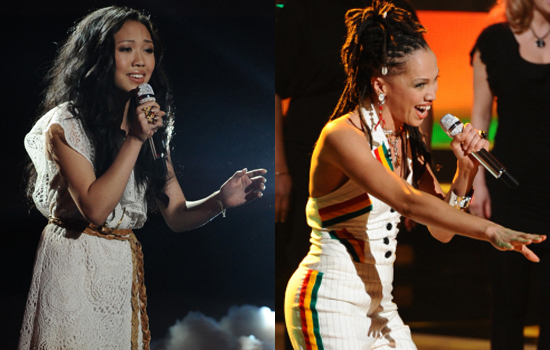 With the one save of the season gone, the two girls didn't have the opportunity for a last-chance performance, so they just held hands and looked on as their tribute video ran in the final minutes of the night. I wasn't surprised to see either of them go since both have been in bottom before, but do you think voters made the right call?