It's no longer boys against girls on American Idol [1]. After being selected for the top 13 last week [2], the contestants took the stage to perform songs from their musical idols. The selections were definitely ambitious, and everyone from Michael Jackson [3] to Celine Dion received an homage. But while some competitors pulled off the perfect tribute, others struggled with the material. Click through to find out how they fared, and then place your vote for who's staying and whose dream is in jeopardy.


Lauren Alaina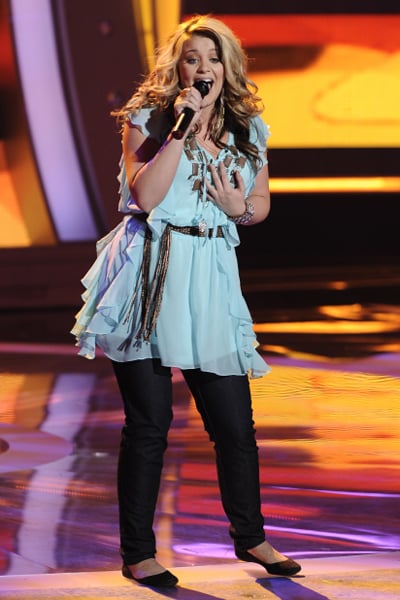 Song: "Any Man of Mine" Thoughts: Lauren Alaina sounded right at home singing the Shania Twain tune, but I didn't think she brought anything new to the song. The judges seemed to agree that the performance was lacking wow factor. Steven said he wanted it to be "more kickass," Jennifer told Lauren to "kick it into high gear," and Randy suggested that she pick a song that lets her shine the next time she takes the stage. Do you think Lauren will get another shot?
Ashthon Jones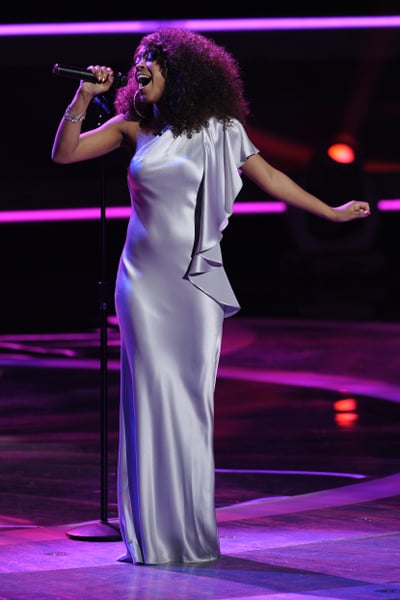 Song: "When You Tell Me That You Love Me" Thoughts: Even though Ashthon went sharp in a couple places, the performance was fine overall — except it was a snooze! Ashthon definitely has all the makings of a diva, but where was the sparkle? Randy questioned if the song was a safe move, Steven wondered if Ashthon's holding back, and Jennifer recommended maybe picking a more familiar song for her next selection. Do you think America will let Ashthon compete next week?
Casey Abrams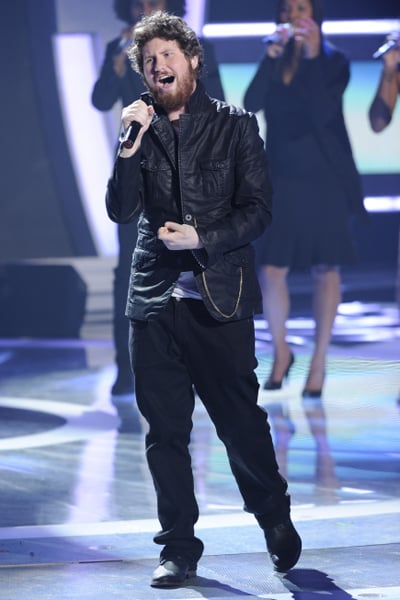 Song: "Little Help From My Friends" Thoughts: How can you not love this guy? Casey went wild on his rendition of the classic track; his voice was fiery on the high notes, but he still showed off the quality of his sound on the song's softer parts. He blew away Jennifer Lopez [4], Randy said he's fun to watch, and Steven went so far as to call Casey a "rainbow of talent." The judges gave Casey glowing reviews, but will the public agree?
Hayley Reinhart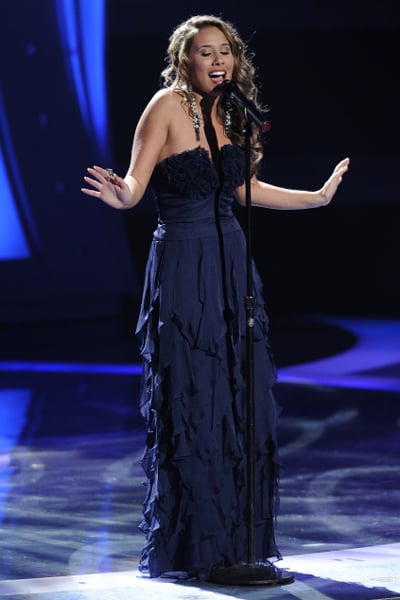 Song: "Blue" Thoughts: Hayley's voice was gorgeous throughout the country song, and to me, she sounded right on par with her idol LeAnn Rimes. But as Randy pointed out, it did feel a little sleepy. Jennifer and Steven, on the other hand, only had nice things to say. Jennifer called Hayley's voice unique, and Steven said it was "so so fine." Do you think America will boot Hayley for being boring, or put her through for another round?
Karen Rodriguez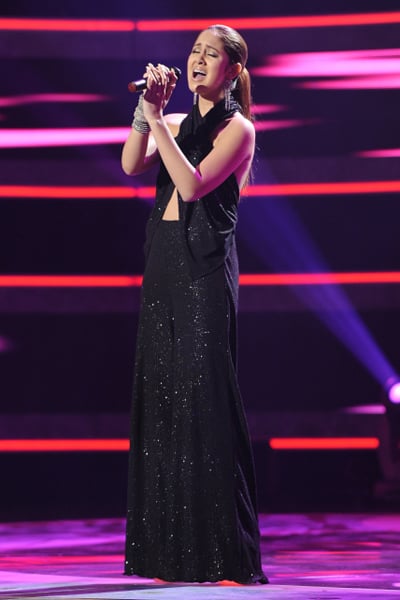 Song: "I Could Fall in Love" Thoughts: I loved Karen's story of idolizing Selena while growing up, but for someone who is so passionate about the artist, she just didn't own the song. Jennifer agreed, saying that Karen didn't seem comfortable with the notes. Randy commented that it felt like she was fighting the tune, and Steven critiqued her energy. I was surprised to see Karen falter this week — do you think she'll get another chance to make it right?
Pia Toscano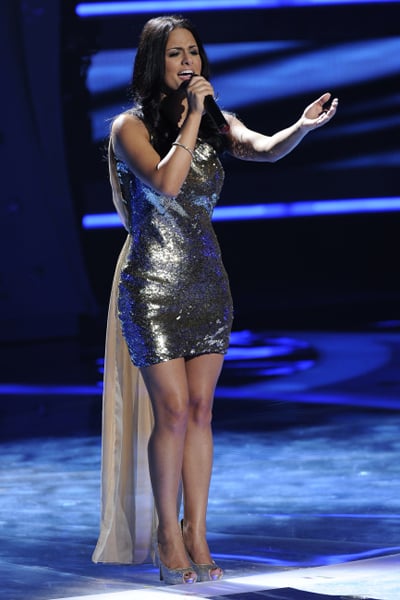 Song: "All By Myself" Thoughts: Wow. I'll admit I rolled my eyes when Pia announced that she chose Celine Dion as her idol, since so many past Idol contestants have butchered big, diva songs like this; however, Pia proved to be one of the few people who can tackle the material. Her high notes were outrageous and effortless. Jennifer Lopez [5] was practically speechless over the performance, Randy called her voice a "natural gift," and Steven said she "slammed it." Will Pia move on?
James Durbin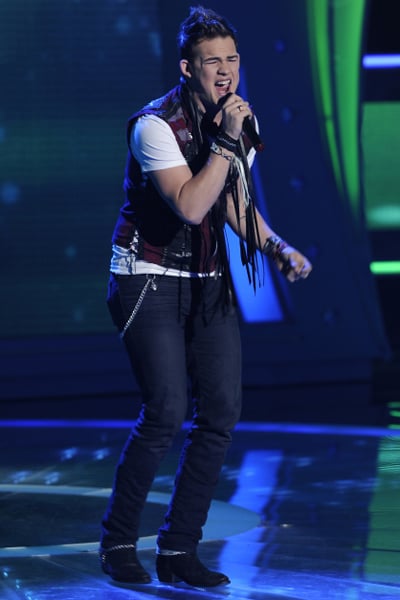 Song: "Maybe I'm Amazed" Thoughts: James has quickly become one of my favorites to watch, because he seems to make every song his own. The Paul McCartney track is the perfect example. James worked in his own rocker flavor, but he also sounded surprisingly pretty in the arrangement's softer moments. Jennifer called out the melodic quality in his voice and Steven said he did "such a good job," but perhaps Randy summed it up best: he slayed it. Will you vote for James?
Jacob Lusk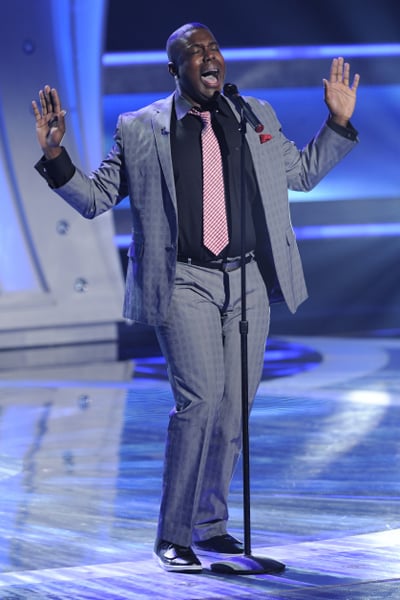 Song: "I Believe I Can Fly" Thoughts: Jacob is in his element when he's wailing like a gospel singer, and this performance gave him plenty of opportunity to do just that. Though some of the notes during his transition into the chorus felt off, once he reached his big crescendo he blew the roof off the place. Randy called his top notes unbelievable, Jennifer said Jacob makes the audience feel so much when he sings, and Steven claimed he couldn't even judge Jacob, he's so good. If you had to judge the guy, how would you vote?
Naima Adedapo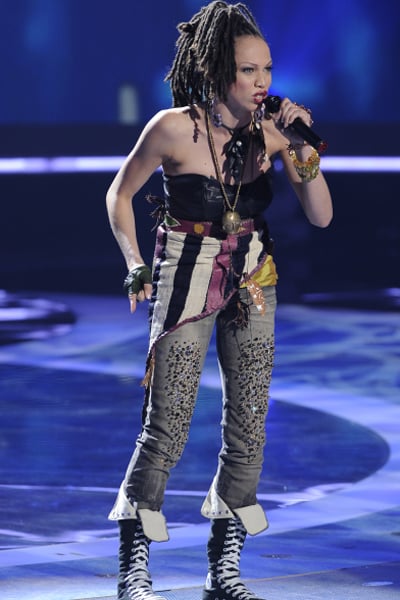 Song: "Umbrella" Thoughts: Talk about risky! Naima busted out some dance moves during her rendition of Rihanna [6]'s hit, and even put a reggae spin on the tune (loved it!). It was a welcome reprieve from the night's more mundane performances, though I didn't think her voice sounded exceptional. All three of the judges said they appreciated the new flavor Naima brings to the competition, though Steven and Randy both recommended that she get her pitchiness under control. Do you think America enjoyed Naima's fiery performance as much as the panel did?
Thia Megia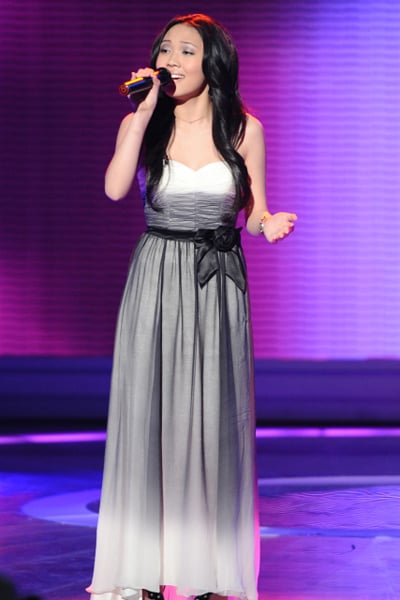 Song: "Smile" Thoughts: Poor Thia fell victim to a bad arrangement this week. Though the beginning of her performance sounded beautiful, her voice got a little lost when the music switched tempo in the middle. I'm with the judges; Thia would've been much better off if the song had stayed the same throughout. Randy and Steven remarked that she was slightly pitchy in spots, but Jennifer told her she still sings like an angel. Do you forgive Thia for this week's misstep?
Stefano Langone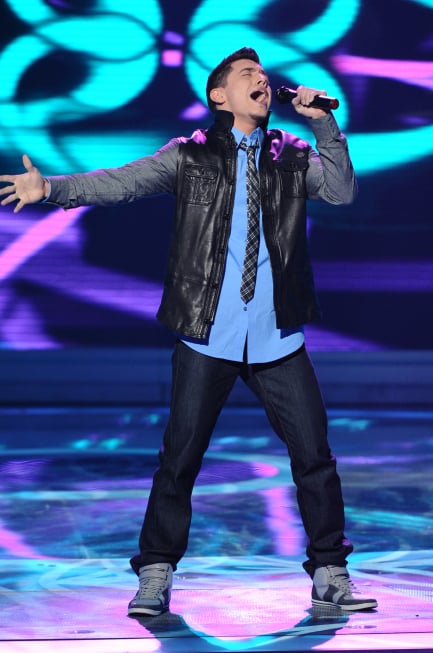 Song: "Lately" Thoughts: Am I the only one who didn't love this dance version of Stevie Wonder's ballad? I'll give Stefano props for trying something different, but I thought some of his notes got away from him when the thumping beats started in. It was just a little too far off from the original for me, though the judges definitely disagreed. Jennifer danced along in her chair, Steven called his version "beautiful," and Randy said he soared. Do you side with the panel on this one?
Scotty McCreery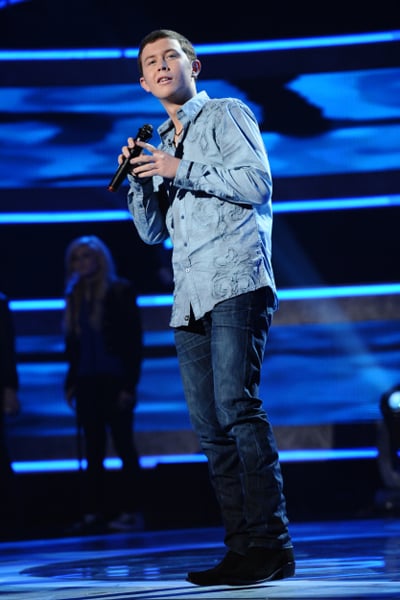 Song: "The River" Thoughts: Scotty is definitely born to sing country, so the Garth Brooks song was a perfect pick for his sound. I'm still wondering how he'll fare when he picks a non-country tune, but as Randy himself remarked after Scotty's performance, if it ain't broke don't fix it. Jennifer said Scotty seemed to open up as a singer, and Steven also gave him high marks. The judges loved it, but do you think America will agree?
Paul McDonald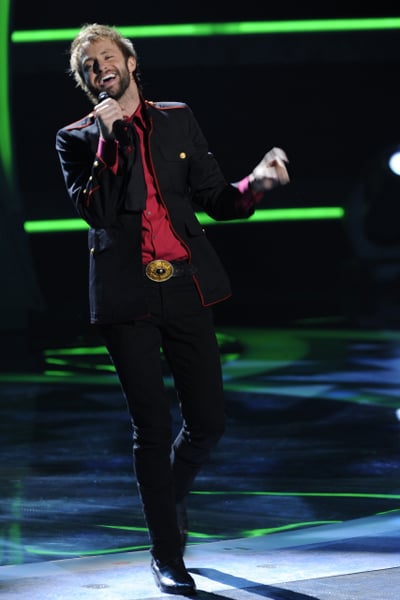 Song: "Come Pick Me Up" Thoughts: Paul's performance was . . . interesting. I love the raspy quality of his voice, though it was a little too breathy for me in this song — and don't even get me started on his dance moves. But the guy is still fascinating to watch. Steven loves him despite his pitchiness, Jennifer said he moved the crowd, and Randy praised his uniqueness. Randy's only concern is, will America get Paul's different sound? What do you think?