American Idol Top 4 Perform
American Idol: Who Deserves to Get Cut This Week?
We had a dual theme this week on American Idol. "California Dreaming" — which essentially meant songs about California, written by artists from California, or songs that were written in or around the state of California — was the first, followed by a round of songs that the contestants "wished they had written." Phillip Phillips started off the show with CCR's classic "Have You Ever Seen the Rain." Normally, Phillip is totally my bag, but this rendition was a little Los Lonely Boys-y for my taste. Hollie whipped out Journey's "Faithfully," which paired nicely with the Farrah Fawcett 'do the stylists gave her. Joshua Ledet went with "You Raise Me Up," which was right in his wheelhouse, and impressive as usual. It was slightly disconcerting to see 16-year-old Jessica Sanchez wobble around on those sky-high heels during her performance of "Steal Away," but the vocals were ridiculous.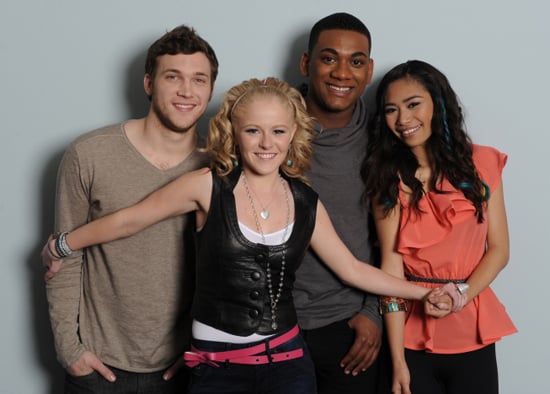 Sitting on large swings and walking on pianos ensued during the duets round before the contestants went on to perform songs they've been most inspired by. Unfortunately, as we were so brutally reminded in the intro this week, every cut gets deeper as the competition goes on. So who deserves to be next on the chopping block?