American Idol Top 5 Perform
American Idol: Who Deserves to Get Cut This Week?
The final five performed on American Idol this week and the contestants were all really digging the swinging '60s theme. Also digging it? The judges and the audience. We're so close to crowning the winner, but alas, there can only be one. Unfortunately, with all the dead weight gone, this means favorites are going to be sent home. On the plus side, the contestants are really pulling out all the stops and giving us a show.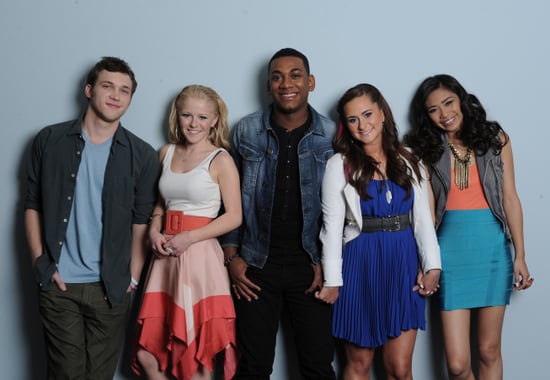 Hollie Cavanagh kicked things off with a solid rendition of "Mountain High, River Low," then later slowed things down with the challenging "Bleeding Love." Phillip Phillips, whom I'm trying hard to remain impartial about but I can't deny my apparent and growing love for, sang "The Letter" and "Time of the Season." Skylar Laine stomped around to "Fortunate Son" and "You Don't Have to Say You Love Me." Jessica Sanchez made "Proud Mary" and "You Are So Beautiful" look effortless. Finally, Joshua Ledet, with a song he was born to sing, "Ain't Too Proud to Beg," and "To Love Somebody" Oh, and he bro-ed out with Phillip on "You've Lost That Loving Feeling." As Steven said, it was adorable. So how can we let one of these folks go? And who should it be?