American Idol Top Two Recap
American Idol Top Two Finals: Lauren and Scotty Battle For the Title!
There you have it: American Idol's finalists Scotty McCreery and Lauren Alaina hit the stage to fight for their last chance to win this season. Even though Lauren injured a vocal chord, the power of medicine allowed her to perform. The two competitors sang in three rounds, getting to pick their first songs, then their own musical idols chose a track, and finally, they tackled the songs that will become their signature singles if they win.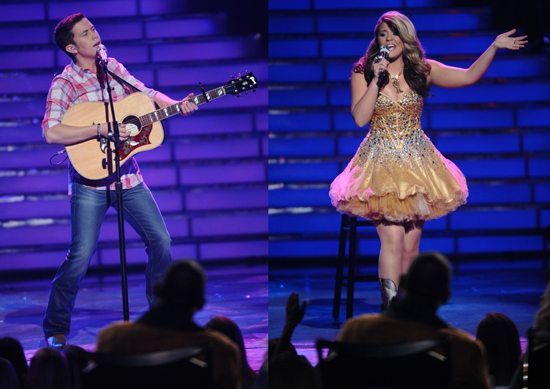 Check out the rundown of their performances and then tell me who you think deserves to be called the American Idol when you
.
Scotty McCreery
Song one: "Gone"
Thoughts: Scotty's rousing performance had the crowd on its feet, as he explored the stage like it was his own concert. As expected from it being his choice, it was well done, but it felt too safe.
Song two: "Check Yes or No"
Thoughts: Scotty's idol George Strait picked out this selection, which seemed perfect for him. I appreciated the authentic feel of the whole performance, from the plaid shirt to the guitar (which prevented him from doing his patented but distracting microphone hold). He never seemed more comfortable all night than he did during this song.
Song three: "I Love You This Big"
Thoughts: The ballad brought out Scotty's emotive faces to the camera, which I didn't love, but he seemed genuine and sounded great. To be honest, I thought the song was pretty cheesy, but I have to admit that I could totally hear this single dominating the radio if Scotty wins.
Lauren Alaina
Song one: "Flat on the Floor"
Thoughts: What busted vocal chord? Lauren spryly bounded around the stage like nothing was wrong. She sounded pretty good, but the performance ultimately felt like a warmup compared to her next two songs, which were both stronger.
Song two: "Maybe It Was Memphis"
Thoughts: Lauren's idol Carrie Underwood picked this track, which let Lauren bust out her girlie side, giant tulle skirt and all. I loved the song choice for her and thought she sounded fantastic.
Song three: "Like My Mother Does"
Thoughts: This song about mothers hit me right in my sentimental underbelly. It seemed to be the most challenging song of the night for her to sing, but the most rewarding; this was where I thought she brought the house down. Tomorrow will tell who wins, but for me, this song just felt like a winning single.
Although the judges heaped praise on Scotty, they seemed to favor Lauren for the win after her final song. Randy said she had a slight edge, and Steven said she was already the idol in his eyes, though Jennifer tried to stay neutral, calling it a tight race. It's a tight race indeed, so tell me what you thought about tonight's performances and who you think is going to win tomorrow night.
Photos courtesy of Fox