American Reunion DVD Release Date
What to Rent: New DVDs This Week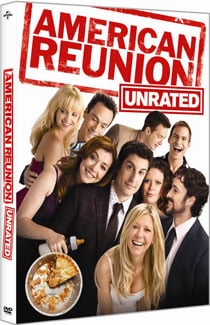 Over a decade after their graduation, Jim, Stifler, and the whole American Pie gang return to their old stomping grounds for the high school reunion. The group is older but, arguably, not wiser, and they embark on the same type of raunchy shenanigans, complete with scantily clad high school girls and lots of alcohol. Though it's nice to see the characters and rock to the '90s hits on the soundtrack, the jokes and dynamics feel a little old, and some of the tomfoolery goes way too far. DVD extras include deleted scenes and behind-the-scenes featurettes.
43%
Christian Bale stars as John Miller, an American caught overseas while the battle between China and Japan rages around him. It's 1937 Nanking, and the terrified John seeks refuge in a European church among a group of schoolgirls and prostitutes from the red-light district. Complications arise when the girls are asked to sing in front of the Japanese army, and John must take heroic measures to ensure their safety in the brutal and disturbing film, based on the novel by Geling Yan. A five-part making-of documentary is included with the DVD.
41%
One more release when you
.
Paul Dano plays Nick, an aspiring writer who volunteers at a homeless shelter. While working there, he encounters his father (Robert De Niro), with whom his relationship had degenerated throughout the years. Already preoccupied with his budding new romance with Denise (Olivia Thirlby), Nick struggles to deal with the sudden presence of his down-on-his-luck father in this sweet drama that doesn't adhere to a typical formula. The DVD comes with a behind-the-scenes featurette.
55%