American Reunion Movie Review
American Reunion: A Yearbook of Bad Memories
In 1999, a raunchy comedy called American Pie became an instant high school movie classic boasting the tagline "There's something about your first piece." That line feels truer than ever upon the release of American Reunion, the third sequel in the franchise. The film tries to capture the humor and spirit of the original film, but all it does is make you wish the Pie films had quit when they were ahead.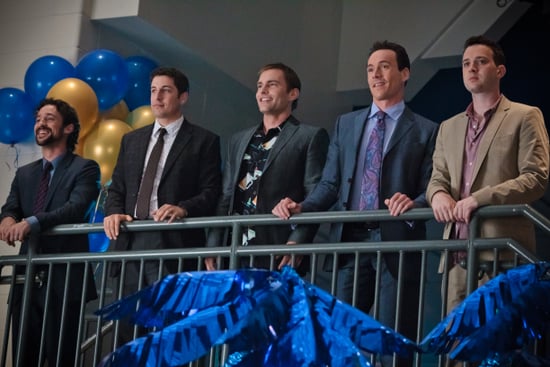 Thirteen years after graduation, we find Jim (Jason Biggs), settled down with former band geek Michelle (Alyson Hannigan). Their once-spicy sex life has dwindled following the birth of their first child, and he's mostly lost touch with his former BFFs Oz (Chris Klein), Kevin (Thomas Ian Nicholas), and Finch (Eddie Kaye Thomas). To remedy the situation, the foursome vows to have a boys' weekend back in their hometown for their high school reunion. Of course, the weekend becomes a disaster complete with binge drinking, surprise sexual encounters, awkward moments with former classmates, and a relentless amount of incredibly obnoxious one-liners from Stifler (Seann William Scott).
To find out what else feels stale about American Reunion, just read more.
Getting caught up with Jim and the gang might have been more fun if there hadn't been two more Pie movies between the original and this one; we already have a good sense of where the characters have been and how they've evolved (or haven't, in most cases). Plus, you can garner what's happened to each of them in the first ten minutes, and after that you're just trying to watch a bunch of 30-somethings relive their glory days. We already saw this movie, and it was called Grown Ups.
The Pie movies have always relied on objectifying women for laughs, but American Reunion takes it to a new level. The guys ogle teenage girls at the lake, where they're wearing thong bikinis and making out with each other in front of their friends, because according to the movie, that's what all high school girls are like now. It's not just the teens either: there's a full-on catfight between two of the female leads, and the weight gain of one of Stifler's former hookups is played for gross-out laughs that's not just unfunny; it's downright mean.
The best part about American Reunion is that it incorporates some awesome '90s hits like "My Own Worst Enemy" and "The Freshman," but even that only happens in the final 20 minutes of the film, when you're already so burned out on sight gags that you barely have enough attention span to notice the soundtrack.
The same goes for all the cameos: it's fun to point out the throwbacks to the original, and I appreciated that John Cho (aka "the MILF guy") has a much bigger role this time around, but it's not enough to justify a film that's overlong and over the top. It made me realize that when it comes to the Pie franchise, I've had my fill.