The Americans TV Show Interview With Keri Russell at TCA
Keri Russell Jokes That Her Spy Show The Americans "Will Rewrite History"
Keri Russell is coming back to the small screen with The Americans, but her new FX series is a far cry from her college life on Felicity. Russell plays a Russian undercover agent posing as an American woman in the 1980s, while Brothers and Sisters' Matthew Rhys plays her husband and fellow agent. The stars and their show-runners came to TCA to talk about the physical demands of playing secret agents and whether we'll be rooting for the other side on the Cold War-set show.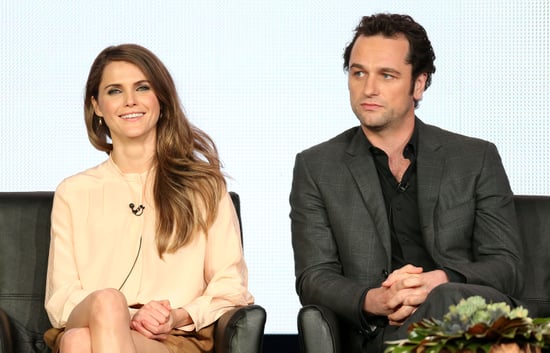 Since Russell and Rhys play KGB spies working against the American government, the panel was asked who and what we're supposed to root for. Executive producer Joel Fields said that's one of the big questions of the series, but admitted, "It's a little difficult to get used to, [but] we want you to root for the KGB." Russell joked that they "will rewrite history," but the intent is that the audience also roots for the relationship of Philip and Elizabeth (Rhys's and Russell's characters), since they're essentially in an arranged marriage on assignment. Creator Joe Weisberg added that The Americans is "a show about marriage, and the marriage is an allegory for international relations."
Russell's role is very physical, and it sounds like she's enjoying her stunts, which include kicking a man's head into a wall in the pilot. She said that's "the cool part of this job: experiencing that kind of masculine aggression." Rhys mentioned that their preparation included martial arts training and that Russell's dance background also helped her.
Rhys talked about the parallels of being a Welsh actor playing Americans on screen with this role as a Russian man pretending to be an American. He said that in both cases, there's "a fine line of being so American that you're drawing too much attention to yourself." Rhys joked that to avoid being too American, he concentrates on "not overemphasizing my R's or wearing too many baseball caps." Russell added jokingly, "That's what we do."