The Americans TV Show Review
Pilot Scoop: The Americans
It's been years since Keri Russell had had her own TV show, but now the actress is a back in a series that puts her in situations Felicity Porter would never have dreamed of. In The Americans, Russell plays a Russian agent devoted to the motherland during the Cold War-era 1980s, along with her onscreen husband Matthew Rhys. I've checked out the FX show's pilot, so I have some insight into whether The Americans might be the next TV series you can't miss.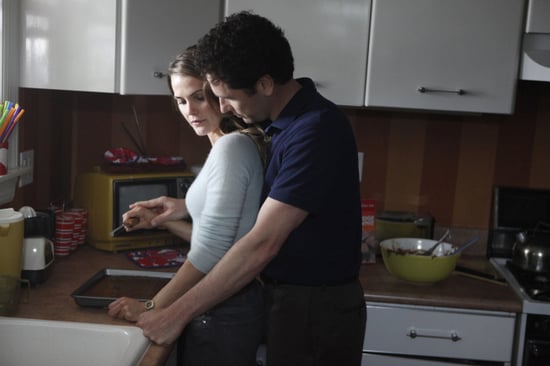 What it's about: Phillip (Rhys) and Elizabeth (Russell) are the average American couple living in the suburbs in the 1980s, with the perfect nuclear family (one son and one daughter) — only they're actually not American at all. In fact, Phillip and Elizabeth are Russian agents just posing as citizens and doing work as KGB agents.
Where it works: Russell and Rhys have fantastic chemistry, which serves their interesting relationship; though they've been "together" for years, it's a business arrangement. However, when the series picks up, we find them developing real feelings for each other (which may conflict with the fact that some of their missions involve them engaging in sexual activity with targets for information).
Where it doesn't: Some people may be uncomfortable essentially rooting for the enemy, though the cast and crew recently acknowledged that and hope you can watch with an open mind. Also, Russell's latent Russian accent, which emerges in her flashback scenes, is hard to take seriously.
You might like this show if: You were on Brody's side in season one of Homeland.
When it's on: Wednesdays at 10 p.m. on FX
Watch a preview and see some photos from The Americans after the jump.