Amy Adams Interview on the Set of The Muppets
Amy Adams Talks Muppets, How She Picks Movies, and Her Leading Ladies Like Meryl and Ms. Piggy
Amy Adams was in the midst of a busy award season when we were able to visit the LA set of The Muppets in January. It was just one day before she dressed up to attend the Golden Globes, but Amy was more focused on spending her between-scenes time with her fiancé, Darren Le Gallo, and their daughter Aviana. Jason Segel spoke about writing and getting the Muppets movie made, while Amy was happy to chat about her latest connection to the Disney family. She also shared about the honor of being Jason's first choice for the role of Mary, how she picks projects, and who would win in a Meryl Streep and Ms. Piggy showdown. Amy said: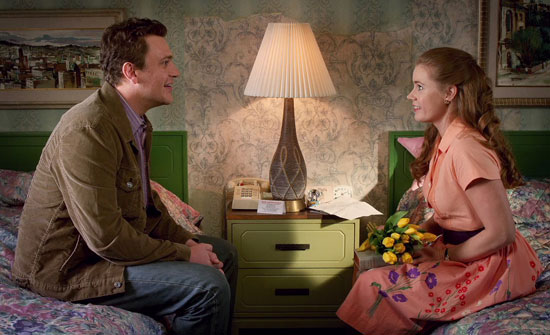 On her friends wanting to visit the set: "I have a lot of friends [come by] — not just for the Muppets, but for Jason. I have a lot of girls who really like Jason. There have been a lot of visitors. I have visitors today. It's exciting because a lot of people grew up loving the Muppets and it's nice for them to get to see it."
On what made her decide to sign on: "[Shooting in LA] is a huge benefit for me having just had a baby. I can be at home and be working with the Muppets, which is such a family-friendly set and family-friendly film. She is here today. I'm sure you've seen me flying around with her. That is a huge plus. Also, just to get to introduce her to the Muppets is very fun. She was interacting with Walter today. It was the first time she had ever interacted with any of the Muppets. So that was cool."
On who's tougher to act with — Miss Piggy or Meryl Streep? "I have to say that I can't win in that answer because I am working with Ms. Piggy.  So if I say, 'Meryl Streep,' I have to see Ms. Piggy tomorrow and it will be like, 'So I heard . . . ' So I'm just going to plead the fifth. I know Meryl will be OK, but I don't want to cross Ms. Piggy."
On being flattered by being Jason's top choice: "I didn't know the extent to which he had thought of me.  I knew for him to send a personal invite to be a part of it and getting Kermit to be a part of it — I knew that he was serious about it.  I didn't know that he specifically had me in mind until after I was on set. It's a lot pressure and I didn't know!"
Photo courtesy Disney
To read more about Amy growing up with Muppets, her hopes of getting into Disney for free someday, and more about the film, just
.
On growing up with the Muppets: "I watched The Muppet Movie obsessively. I can still pretty much say a lot of the lines and do a pretty mean Fozzie Bear. It's actually the worst thing. They have me do it on the set all of the time and I am so bad at it. I realize they are laughing at me, but I still enjoy it."
On being pleased to be a part of the Muppets legacy: "It is awesome. I have been lucky to be a part of a lot of family films that have a great lineage with Enchanted, Night at the Museum, and now to be a part of this. This is something I grew up with and was in love with. When I heard they were doing a new one I was really excited. Jason sent me a DVD where he and Kermit were inviting me to be part of The Muppets. It was really cool. Once Kermit asks you to do something it is really hard to look at him and say, 'No.' So I was hooked!"
On the amount of improv in the film: "I've been lucky enough to work with a lot of people who are great at improv. Jason is wonderful at it. All of the puppeteers are amazing at improv. I am comfortable with it, but I usually don't do a ton of it. I don't know if it's the way it is written, or if my character is more submissive, or if it's just my fear of keeping up with the improv artists."
On which Muppet she gets along with best: "Walter, just because I'm in most of the scenes with Walter. Then it is probably Fozzie because he was my favorite as a kid. So I am always interacting with Fozzie when I get a chance."
On having naiveté: "I come from musical theater and a lot of musical theater is about accepting fantasy. I think it is more about just being open and accepting. I think it comes from my musical theater background more than anything else. You know, musicals were at their height at a time of . . . the world seemed to be a more innocent place. We had less information. That is probably where it comes from more than anything. It is my experience in theater and more specifically musicals."
On being surprised about there not being an Enchanted sequel: "I don't know. I haven't thought a lot about it because I loved the first film so much. So I always just accept it that if that is the only one, then I feel like it is a really great story. It has a beginning, middle, and end. I'm really comfortable with that. If they have a script then I am here. I haven't seen anything, though. I don't know if I am surprised by that. I really loved the first one and I think it stands alone."
On getting used to shooting with Muppets: "That took awhile to get used to or when you see them mounted on the tables by themselves.  I did not enjoy that.  But you get used to it and they come to life.  You oddly develop different relationships with different Muppets."
On giving puppeteering a try herself: "For different [Muppets].  Just when they need somebody, you know?  Today, we did it and it was funny because Jason and I both accomplished what we needed to with our Muppet, and then we forgot to act.  We forgot that we were in the scene.  It has its challenges."
On her musical numbers: "I'm somewhat involved in a few of them.  I get in there."
On doing more singing and dancing on film: "I don't know. I would like to do it on stage. I would like to do more on film. It would be great if they made them. They do make some, but not a ton. I've already done Enchanted and I think that is how people see me. I would like to go on stage and do musicals."
On getting into Disneyland for free after doing Enchanted and the Muppets: "From your mouth to God's ear! That would be awesome. I would love it, especially with my baby. We would have a good time. I love Disneyland. I have gone there a couple of times since Enchanted and it is a little strange. It's not strange for me, but I think it is probably strange for the kids. We were in Fantasyland and all of a sudden you could see little girls start to get confused. They were like, 'But I just saw Giselle in the big princess dress . . . but that is Giselle.' My fiancé was like, 'We've got to get out of here, Amy. We've got to get out of here!'"
On how she picks her projects: "I start out with a list of what I am looking for.  Sometimes something presents itself that is on that list and sometimes something surprises. I didn't expect The Fighter to come along.  I had been working straight for four years. I was like, 'I've done too much. I need to take a break.' And then The Fighter came along and I couldn't say no. I try to stay open. I have a list of things I am looking for. You know, I want a great director, or something fun, or some great material. All of that is there anyway for what I am hoping for. But I try to stay open so that I can be surprised like I was with The Fighter or The Muppets even.  I didn't know that I would return to family films. I love doing them, but after The Fighter I was like, 'I've played this tough girl.' And now I'm like, 'Oh, no. I am in ringlets again!' But I couldn't say no to the Muppets. I love the Muppets."