Amy Poehler Interview About Parks and Recreation Wedding
Amy Poehler and Adam Scott Talk Parks and Rec Wedding: 4 Things to Know
This Thursday, wedding bells will ring for Parks and Recreation's beloved couple, Leslie and Ben. Amy Poehler and Adam Scott, who play the pair, chatted with a few reporters, along with show creator Mike Schur, to talk about this week's hour-long dose of Parks and Rec. Read on to find out a few things to expect, like who will be performing at the ceremony and why you should have seen this day coming long ago.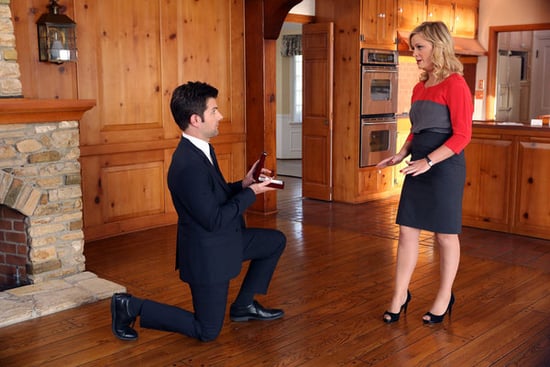 Everyone in the gang will play a special role at the wedding. Schur said, "Everybody has a job to fill, of the main cast. Part of the fun of the episode is that the wedding was originally planned for May, and at this black-tie gala that happened last week, they basically decided to do it that night. So they have two hours to throw it together, so everybody has a role to play. Tom Haverford becomes the officiant, and has to get ordained online in like an hour. Donna plays a role. We're, for the first time, going to feature her beautiful and professionally trained singing voice. We let Retta (who plays Donna) pick which aria she wanted to perform. In the opening moments of the episode, in order to pull this thing off in classic Parks and Rec fashion, everyone has to chip in, so there's a part for everybody to play."
If you watch Adam Scott's first episodes, Ben and Leslie's wedding destiny was foreshadowed. Scott saw the marriage potential between Ben and Leslie early on, saying, "I recently went back and re-watched 'The Master Plan,' which was the first episode that Rob Lowe and I were on. Looking at Leslie and Ben in our first couple of scenes together, it really speaks to the quality of writing of this show that there's a lot of foreshadowing of their relationship, in the sense that these are two three-dimensional characters that really sort of fit together, and they see things in each other that no one else really sees. They hit these buttons with each other right off the bat. From the very start, there was more to it than a simple will-they-or-won't-they. I think that being married now fits in naturally with that."
Find out two more tidbits after the jump.
But the writers admit they didn't always see him as Leslie's husband. Schur admitted that he and the other showrunners didn't necessarily know that Ben and Leslie's marriage was the endgame. He said, "The plan was that [Ben] was always a love interest and a long-term love interest. Our initial idea for Leslie was that she was going to have a series of relationships with different kinds of men over the course of the show and that she would learn something different from each of them. She learned a little something from Mark Brendanawicz (played by Paul Schneider), she learned something from Justin Theroux, and we were sort of like, 'Ooh, Adam Scott, that's good, she'll date him for a while and she'll learn something about herself from him.' It was certainly a plan to have him be a love interest. In the second episode we had that was the finale that year, called "Freddy Spaghetti," they have a conversation and Leslie smiles at him and walks off, and there's a shot of [Ben] looking after Leslie with a smile on his face, and as soon as I saw that, I kind of realized that not only were they going to get together, they were never going to break up." Poehler put a fine point on it, chiming in to add, "It's chemistry, baby! You can't fight it!"
Yes, married Ben still loves calzones even though they recently disappointed him. The group joked around about Ben's love for calzones, with Scott saying that, "I feel like Ben was betrayed by calzones. But as you know, when you're betrayed, let me just say there's a period of shame and then there's always a period of forgiveness. I don't want to spoil anything, but I know that forgiveness is always a possibility." Poehler felt very strongly about Ben's obsession, adding, "I'd also like to point out that Ben is so codependent about his calzones that he often puts his calzones before his work and his friends and his family. A lot of people worry. It's like enough's enough. Like, how many times does a calzone have to disappoint you before you let it go? Stop worrying what the calzone's feeling, and just like, live your life, man." Finally, Schur put in his funny two cents, saying, "I think that Leslie and Ben's bond is so strong, and they're so right for each other that I don't think any other man or woman could ever cause any irreparable harm in their marriage. But I do think that what could is the calzone issue. It's the two things that Ben cares about most in the world: Leslie and pizza wrapped in pastry dough."