Anchorman 2 Second Trailer
4 Things We Didn't Expect to See in the Anchorman 2 Trailer
If the first trailer for Anchorman 2: The Legend Continues is the appetizer, this trailer is the main course. Ron Burgundy (Will Ferrell) and his ragtag team of newsmen, Brian Fantana (Paul Rudd), Brick Tamland (Steve Carell), and Champ Kind (David Koechner), are headed to New York City to conquer a 24-hour news channel. Now that they're in the '80s, the team soon discovers they're not as smooth as they were at their peak in San Diego, especially now that they're in such a diverse metropolis. It looks like Brick is getting a lot more screen time (I can't wait to see him court Kristen Wiig's character), and dare I say, this looks amazing.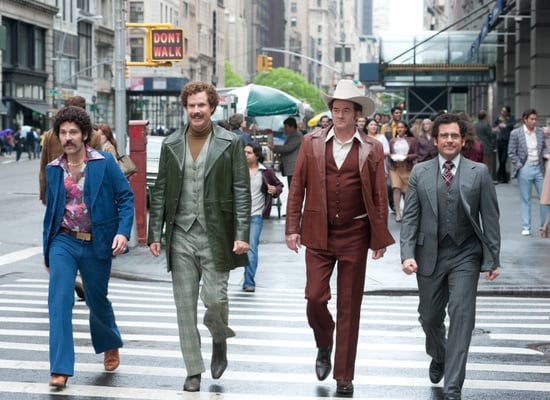 Even if you watched the first trailer, this one has tons more footage to marvel at. Should you choose to tune in — and you absolutely should — here's what you'll see:
Brick's funeral. Oddly similar to the trailer for The Hangover Part III, this starts with a funeral. Just when I'm welling up, Brick (Carell) shows up to eulogize himself. He's as happy as we are to discover that he is not, in fact, dead.
The news van gets overturned. Ron finds out "cruise control" doesn't mean that the vehicle steers itself while en route to the Big Apple. Shhh, it doesn't have to make sense!
The gang gets perms! As you can tell by the above picture, the news crew hits the salon to get perms that compete only with Bradley Cooper's 'do from American Hustle. The look is even better in motion, trust me.
Brick loses his legs. The news industry is in the dawn of the green screen, and when weatherman Brick catches a glimpse of himself forecasting the weather while wearing green pants, he melts down. Well done, team.
Watch the trailer after the jump.